Crop Shop Boutique (CSB) is an Australia-based company that offers quality activewear and everyday essentials for women. In addition to that, they also sell accessories such as socks and gym towels.
More About Crop Shop Boutique Clothing
Crop Shop Boutique (CSB) was founded by fitness influencer and personal trainer Rachel Dillon in 2019. A fan of wearing activewear herself, she decided to create a brand that focuses on quality, style, support, functionality, and comfort.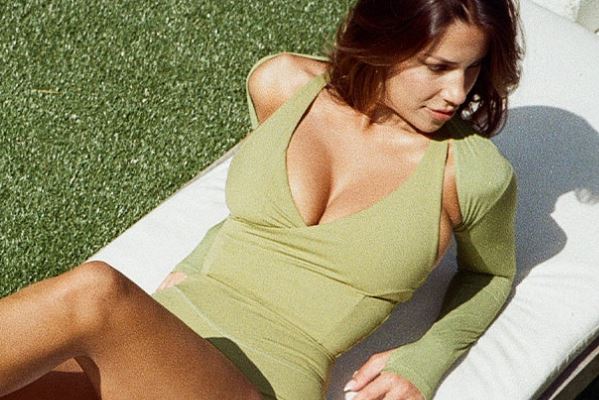 Fast forward to 2023, and the brand has released countless 5-star reviews from customers all over the world for its stunning designs and fit. Earlier this year, they also opened up their first retail pop-up in Sydney, where they showcased their exclusive collaboration collection with Australian model Isabelle Mathers.
What Type of Clothing Does CSB Sell?
CSB offers a variety of activewear and lounge tops including tees, tanks, crops, bandeaus, playsuits, hoodies, sweatshirts, and jacket. Not only that but they also offer leggings and shorts, all of which are made from squat-proof fabrics.
Their prices are also on par with other popular activewear brands. Take their leggings, for instance, they retail for $70 to $100, depending on the design. The same goes for their tops and undergarments.
For those who live in the U.S., shipping is also free on all orders above $115. They also have a rewards program where you can earn points every time you shop. Exclusive promotions are also available to members.
Care Guide for Crop Shop Boutique Clothing
Crop Shop Boutique (CSB) prides itself on its high-quality clothing. Having said that, there are a few things that you can do to ensure that they stay in tip-top shape. First and foremost, you don't want to procrastinate when it comes to washing their tops and bottoms. Ideally, you want to wash them as soon as possible so that the sweat and oils don't have a chance to wreak havoc on the fabric.
You also want to pay attention to the care label as it tells you exactly what you need to know about washing the item. For instance, some garments are sensitive to heat and can only be washed with cold water.
What's the best way to machine wash Crop Shop Boutique clothing? What kind of laundry detergent should you use? For the answers, be sure to keep scrolling because we'll be going over everything in detail below. Before that, though, let's take a look at what materials they use for their products.
What Premium Fabrics Is CSB Clothing Made Of?
Crop Shop Boutique has several types of proprietary fabrics that they use for their lounge and activewear. Here's a quick overview.

ACTIVLUXE Fabric
Activluxe is a functional fabric that has a soft and silky feel. Made for movement, it features high compression for enhanced muscle support and comes with a four-way stretch that conforms to your curves. It's also quick-drying, breathable, and cool to the touch. Ideal for high-impact workouts such as HIIT, boxing, and running.
SERENITY Fabric
Serenity is an inherently flattering fabric that has a soft, velvety, finish. Made of polyester and spandex, it features moderate compression and is highly absorbent. Perfect for light-to-medium impact training, running, walking, and studio classes.
FREEDOM Fabric
Freedom is soft, stretchy, and silky while offering the perfect amount of compression. Featuring a feather-light feel, this nylon and spandex blend is quick-drying and breathable and will stretch with your body's movements. Perfect for light to medium impact such as walking, and weight training.
FADE Fabric
Fade is the most lightweight fabric in their lineup. Featuring light-to-medium compression, it has a second-skin feel and is incredibly stretchy. However, it's prone to pilling and should be washed according to the care tag instructions. Perfect for everyday wear, light training, walking, yoga, pilates, and stretching.
Crop Shop Boutique Washing Guide – Leggings and Shorts
The leggings and shorts are both machine washable. There's also the option of washing them by hand in a tub or sink with a bit of detergent. Both methods are effective, though the latter is a little gentler on the fabric.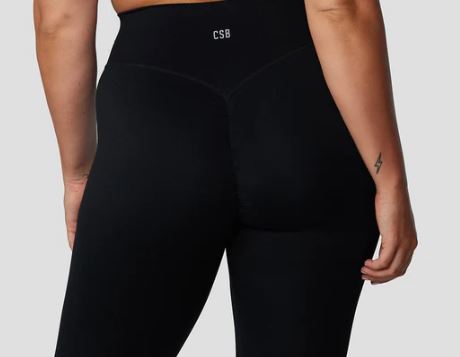 Can You Wash CSB Leggings and Shorts in the Washing Machine?
Many of their leggings have a hidden pocket in the waistband. Make sure there's nothing left inside. The same goes for their shorts; make sure the pockets are emptied.
Expose the inner layer by turning the leggings/shorts inside out. That'll also protect the outer layer from rubbing against your other clothes during the wash cycle. Next, place the pants in a laundry bag. While it's not necessary per se, it's highly recommended as the mesh material will protect them from friction damage. That way, the pants will stay in tip-top shape.
Tip: You can wash the leggings/shorts with other activewear as long as the colors are sorted and you're not mixing opposites together. For example, you can wash black leggings and shorts with black or navy tees and tank tops. To minimize friction damage, place the other garments in their own mesh laundry bags.
Zip up all of the laundry bags and throw them into the washing machine. Next, add your laundry detergent. For Crop Shop Boutique, ACTIVE detergent is the best choice. Measure one scoop of powder and pour it directly to the tub on top of the clothes.
We advise against using fabric softener as it will prevent the technical fibers from wicking moisture and sweat from the skin. Not to mention that it can attract dirt and sweat.
Once all the clothes are inside the washer, run a gentle cycle. In terms of water temperature, you want to go for cold water as hot water can damage the fabrics over time.
Press the start button and allow the washing machine to run. When the wash cycle is finished, take out your leggings/shorts immediately. Don't leave them in a pile inside the washer; they can develop a smell due to the wet and moist environment.
To dry the leggings/shorts, hang them on a clothesline or place them on a drying rack. Do not transfer them to the dryer; the high temperature will wreak havoc on the fabric and elastic. Also, do not leave the pants out in the sun.
How to Hand Wash Crop Shop Boutique Leggings and Shorts
Prepare a bath for the leggings/shorts. Turn on the tap and fill the sink with cool or warm water. Measure one scoop of ACTIVE detergent and add it to the sink; you'll have to swish and agitate the water a couple of times to help the powder dissolve.
Tip: You can add some baking soda or white vinegar to the detergent mixture if odor is an issue or if the pants are excessively soiled. They'll help break down the odor-causing components so that the pants will be fresh and clean after washing.
Make sure the pockets of the leggings/shorts are empty and turn them inside out; that will expose the sweaty, dirty layer to the detergent. Gently immerse it in the sink so that the fabric is completely saturated with the sudsy solution.
Massage the pants between your fingers and set a timer for 20 to 30 minutes (that's how long it takes for the detergent to penetrate into the material and break down the gunk). Once the time is up, run the leggings/shorts under cool, running water for a couple of minutes. Continue to rinse the fabric until all of the soapy residue has been washed away.
Don't twist or wring your leggings/shorts to get the water out- that'll permanently damage the fabric. Instead, press them gently against the sink to remove the excess moisture. You can also dry them with a clean towel; place it above the pants and firmly press down to get rid of the moisture.
From there, put them on a drying rack in a well-ventilated room and let them air dry. Do not transfer them to the dryer and do not leave them out in the sun.1
The Best Ways to Wash Crop Shop Boutique Sports Bras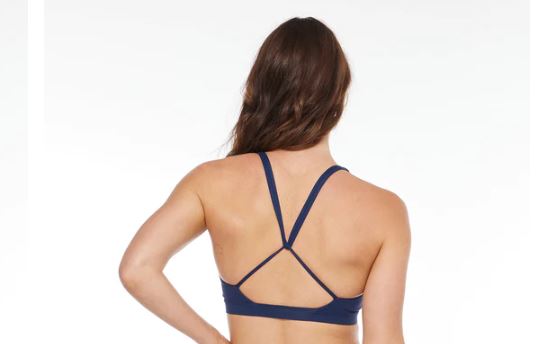 Their sports bras are made from a four-way stretch fabric and can be machine washed with cold water. They can also be washed by hand.
How to Safely Wash CSB Sports Bras in the Washing Machine
Most, if not all of their sports bras come with removable padding so before you start, be sure to take them out. You can either throw them into the washer along with the bra or wash them by hand. Either way, you want to set them aside.
Once you've removed the padding, turn the sports bra inside out; this will expose the sweaty inner layer to the detergent. Next, you want to put the bra in a mesh laundry bag. Don't skip this step; the mesh fabric will protect the sports bra from being damaged during the wash cycle (the elastic in particular is prone to being stretched out).
Make sure the sports bra is secure inside the laundry bag and throw it into the tub. If you're washing the bra with other garments, they should have their own bags as well. This includes the removable padding that you took out earlier.
Tip: It's best to wash sports bras with other delicates. Do not wash them with coarse fabric items such as jeans or items with zippers or other hardware.
Pour one scoop of ACTIVE detergent into the tub and start a cold water cycle. Be sure to use the gentle or delicate setting as you don't want the sports bra to be thrown around by the agitator.
Wait for the wash cycle to finish before taking out your bra and other items. Try not to leave them in the washer for too long after washing; you want to let it air dry them soon as possible to avoid mold and odor issues (a moist environment can harbor odor-causing bacteria). Do not tumble dry and do not leave them under direct sunlight. The sun's rays will not only cause the fabric to fade but it can also cause the elastic to deteriorate.
Hand Washing Your Crop Shop Boutique Sports Bra
Take the removable padding out of the sports bra and set it aside. Next, prepare the sink. Fill it with cool water and mix in a scoop of ACTIVE detergent. You'll have to give the water a few swisesh to help the powder dissolve.
Turn the sports bra inside out and submerge it into the soapy mixture. Do the same thing with the removable pads. Give the fabric a good rub between your fingers to loosen any sweat and oils. Make sure the items are fully saturated with the detergent and set a timer for 15 to 20 minutes. You don't want to soak the sports bra for too long, otherwise, the colors can fade.
Once the timer goes off, rinse the sports bra and padding under fresh water. Continue to rinse for a minute or two, until all of the soap suds have been washed away.
Place the sports bra and padding onto a clean towel. Press down from the top using a second towel to remove the excess water before playing the bra and padding on a drying rack to dry. Wait until the removable cups are completely dry before reinserting them into the bra.
The Best Laundry Detergent for Crop Shop Boutique Clothing
Regular detergents won't cut it for Crop Shop Boutique clothing. For one thing, they're not designed for synthetic fibers; this means they won't be able to get rid of the 'gunk' from your clothes.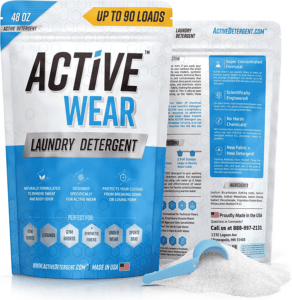 ACTIVE detergent, on the other hand, is designed specifically for synthetic fibers, such as the proprietary materials used by CBS gym wear. Featuring an enzyme-based formula, it will physically penetrate into the fibers to remove dirt, soil, and sweat. In doing so, it will extend the life of your clothes and increase their performance.
What's more, is that it does not contain any fillers or harsh chemicals. In fact, it's hypoallergenic and safe to use even for those with sensitive skin. So why not give it a try?
Note: This promotional offer is only guaranteed through the end of the day.