Boody is an eco-friendly apparel company that's known for their sustainable bamboo clothing. They also offer accessories such as scarves, water bottles, bracelets, beanies, face masks, and more.
More About Boody
Boody was founded by Shaun Greenblo in 2011. Based in Sydney, Australia, the company quickly gained recognition for its sustainable, ethical designs. They also work with various non-profits such as Goodbye Malaria, Circle of Love, and Bridge of Hope San Diego.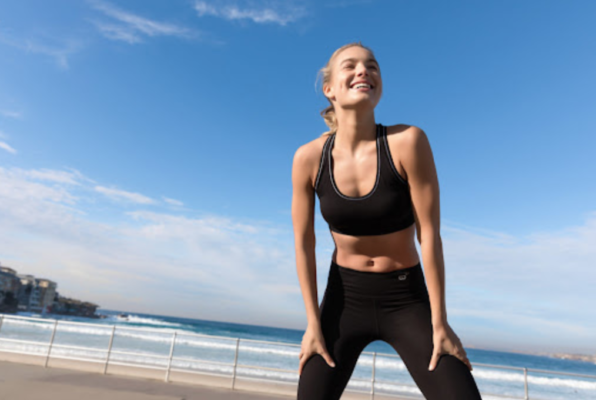 As of 2023, their products are available in more than 1,500 independent retailers around the world—including New Zealand, Canada, and the United States.
About Their Activewear Collection
The Boody Active Collection consists of joggers, leggings, sports bras, pullovers, tank tops, hoodies, sweatpants, and socks, all of which are made from organic bamboo fabric.
Not only are they sustainable, but they're affordable as well. Take their sports bras, for example, they go for about $40. Their leggings are also budget-friendly—you can easily get a pair for under $25.
And you get free economy shipping on orders above $49. Order more than $99, and you'll get free priority shipping.
Tip: Sign up for their email newsletter and you can get 15% off your first order. You'll also receive an exclusive offer on your birthday.
Taking Care of Boody Clothing
Their activewear is made to last, which makes sense, given the durability of bamboo. Like all garments, however, they can still pill or wear down over time, especially with regular use. Fortunately, you can steps that you can take to prevent that—or at the very least, slow it down.
For one thing, you don't want to procrastinate when it comes to washing your clothes. If anything, it's one of the worst things that you can do. Not only will they smell, but the odor-causing bacteria can actually damage the item over time.
You also want to be careful with how you wash your clothes. For example, it's never a good idea to toss activewear into the dryer. It's also important that you sort the items before putting them in the washer.
More About the Materials That They Use
Before we talk about how to wash their clothes, let's go over some of the materials that they use in detail.
Bamboo Viscose Fabric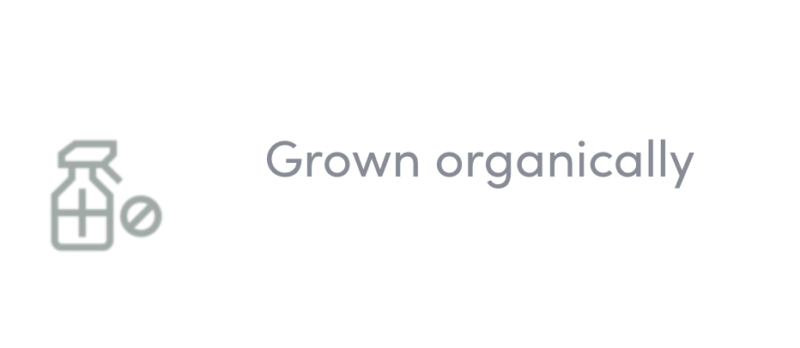 Bamboo viscose is a type of rayon that's made by extracting cellulose from the bamboo plant. Not only is it soft, but it's also highly breathable, which makes it perfect for activewear and everyday basics. That's not all—it's also odor-resistant, thermoregulating, and hypoallergenic. The only drawback is that it tends to shrink at a faster rate compared to other materials.
Nylon
Nylon is a soft, lightweight fabric that's made from synthetic fibers. Super durable, it's water-resistant, mold-resistant, and flame-resistant. It's also easy to wash and take care of. For one thing, it dries quickly. For this reason, it's often used for activewear and swimwear. However, it may retain odors.
Spandex
Spandex is a stretchy fiber that's made from polyurethane; it's often used to make figure-hugging clothing like leggings, tights, and swimwear. Soft and comfortable, it's one of the most common materials used in activewear  Unlike other materials, however, it must be woven with other fibers such as cotton or polyester. Also, it has a tendency of sticking to your body.
Two Ways to Wash Boody Leggings and Tights
Their leggings are made from bamboo, nylon, and spandex. In other words, it's perfectly fine to toss them in the washer. There's also the option of washing them by hand if you want to be more gentle on the fabric. We'll be going over both methods in detail below.
Option 1: Throwing Your Boody Leggings Into the Washing Machine
Flip the leggings inside out. Not only will that prevent pilling, but it'll keep the outside looking like new. While you can put them directly in the washer, it's highly recommended that you use a laundry bag. It'll act as a physical barrier, which will prevent your leggings from snagging or getting ruined in the wash—this is especially true if you have a mixed laundry load.
Make sure that the bag is zipped all the way up and throw it in the washing machine. Put in the rest of your laundry, using extra mesh bags if you have to.
Tip: Avoid washing your leggings with denim or zippered items—they can ruin the fabric if they rub against it in the wash. The zippers can also get caught on other garments during the laundry cycle.
Add one scoop of ACTIVE detergent. Skip the fabric conditioner. It'll leave behind a coating that'll render the fibers impenetrable to water and detergent. In other words, they'll be harder to clean. Consider using white vinegar instead—just add 1/2 a cup during the rinse cycle.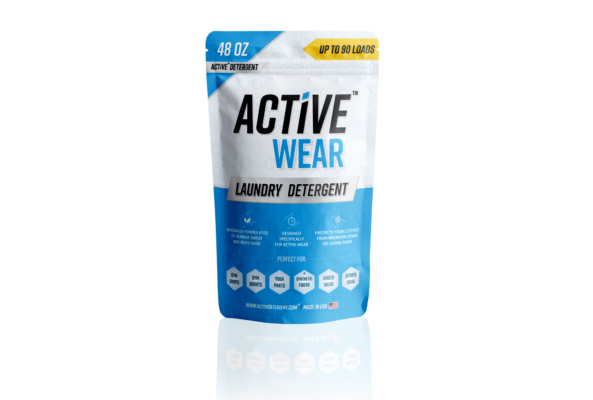 Once everything has been added, choose your settings. For leggings and activewear in general, it's best to use a cold-water cycle on a gentle or delicate setting—that way, they won't get damaged.
Take the leggings out once the wash is complete and lay them flat to dry on a clean surface, such as a towel. You can also let them air dry on a laundry rack or clothesline. Don't put them in the dryer; you don't want to expose them to direct heat.
Option 1: Hand Washing Boody Leggings
Prepare a sink. Fill it 3/4 full with lukewarm water and mix in 1/2 a scoop of ACTIVE detergent. Swish the water with your hands to combine the powder.
Flip the leggings inside out so that the dirty layer is exposed to the detergent. Place them in the sink so that they're completely covered by the solution and swirl them around a few times. Let them soak for up to 20 minutes afterward.
Drain the sink after soaking and refill it with clean water from the faucet. Rinse the leggings thoroughly until all of the soap residue is gone. You can also run them under the tap—that'll help get rid of the soap suds. Continue for 2-3 minutes.
Press the leggings against the side of the sink to remove the excess water. Resist the urge to wring the fabric—that can compromise the shape of the item. If necessary, you can roll them up in a towel instead.
When you're finished, let them air dry on a laundry rack or clothesline.
Two Ways to Wash Boody Sports Bras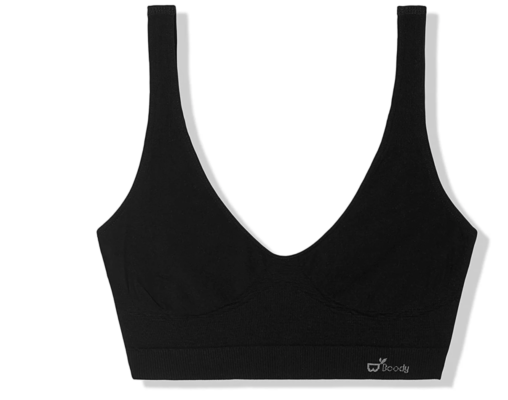 Their sports bras can be put in the washing machine or washed by hand, the latter of which will be gentler on the fabric.
Option 1: Machine Washing Boody Sports Bras
Place your sports bra in a laundry bag. Make sure to turn it inside out; that'll prevent the outside from rubbing against your other clothes, which can damage the fibers. And don't forget to take out the pads. You can place them in the same bag as the bra.
Place the bra into the washer with other similar items. For example, you can wash it with tank tops or shorts. Avoid adding jeans or other coarse items as they can get caught on the fabric. And remember to sort the colors—mixing them can cause dyes to bleed.
Add one scoop of ACTIVE detergent (more if you're washing a large load) and run a gentle cycle. Make sure to use cold water; hot water can cause the fabric to become less stretchy over time.
Tip: Don't use fabric softener—it'll leave a coating on your sports bra, which will prevent them from becoming clean.
Air dry the sports bra after washing. Don't use a clothes dryer; the heat will cause the fabric to lose its elasticity. Drape it across a clothesline or laundry rack instead. You can also lay it flat on a clean towel.
Option 2: Hand Washing Boody Sports Bras
Fill a clean sink with cold water and add half a scoop of ACTIVE detergent. Swish your hand around to dissolve the powder. Keep doing this until you get a soapy solution.
Remove the padding and place them in the sink so that they're completely submerged. Do the same with the bra (after turning it inside out). Swirl the items a few times in the water to loosen any debris.
Let them sit in the soapy water for 15 to 20 minutes. That'll allow the detergent to dissolve any sweat, oils, or dirt.
Drain the murky water after soaking and rinse the bra (and padding) with clean water. We recommend holding them under the tap. Continue until the water runs clear and there are no more soap suds on the fabric.
Press the sports bra against the edge of the sink to remove the excess water. You can also use a towel (lay the bra down on a towel and press down with another towel). Don't wring or squeeze the bra—that'll permanently damage the fibers.
Let the sports bra air dry afterward. You can either lay it down on a clean towel or hang it up on a drying rack or clothesline. Another option is to clip it onto a hanger (avoid hanging the bra by its straps). Don't tumble dry and don't expose the bra to direct sunlight.
Note: This promotional offer is only guaranteed through the end of the day.