Alo Yoga is a popular yoga apparel company. Since their launch in 2007, they have produced numerous trendy pieces, all of which are designed to be stylish and comfy. Aside from their leggings, their best sellers include long sleeve tops, sports bras, jackets, and more. A subsidiary of Color Image Apparel, they sell products for both men and women. 
More About Alo Yoga
Alo Yoga has become extremely successful in the yoga market over the past few years. For one thing, they have earned over 1.6 million followers on Instagram. Capitalizing on the social media market, they've also taken to partnering up with influencers. 
Perhaps even more impressive, however, is the fact that their clothes are regularly worn by celebrities such as Sarah Hyland, Chrissy Tiger, Jenna Dewan, and Hailey Baldwin. This is one of the reasons why the brand has grown as much as they have in recent years. 
Aside from their online store, which ships worldwide, they operate a number of retail stores across the United States (their flagship store is located in New York). Not only are their products available at the different locations, but you can also sign up for yoga classes, which take place in their own studios. A great way to stay active, they offer sessions for all levels. 
A Closer Look at their Products
To reiterate, they sell yoga wear for both women and men. As you can expect from a celebrity-approved brand, however, their apparel can be a bit on the pricey side. To give you a better idea, their bras go for upwards of $90 whereas their leggings easily go over $100.
Considering their prices, it's only natural that you'd want to take good care of their clothes. At the end of the day, nobody buys a yoga outfit just to wear it once or twice. When it comes to athletic apparel, the best way to extend their life is to wash them properly (this applies to all clothing, really). After all, it's easy to ruin a shirt in the washer with a few wrong steps.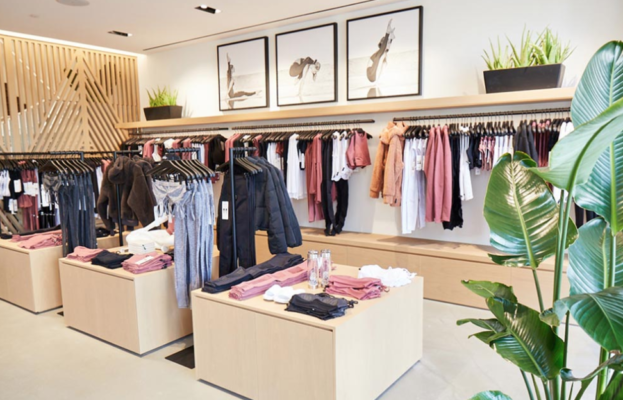 Before we go into the washing instructions, though, it's important that we learn more about their products. What collections do they have? What types of material are used? These are some of the questions that we'll have to answer first.
Alo Yoga Collections
Have you ever browsed through their catalogue? If so, you're probably aware that they have several different collections—both for men and women. Let's take a look at some of them.
The Goddess Collection
Their Goddess line includes many of their best-selling leggings. Available in numerous colors and styles (high-waist, over-the-heel, regular), most of these leggings are cut from their signature Alosoft performance fabric, which is engineered to contour your body. Not only that but the material is comfortable and flexible with four-way stretch; it also features moisture-wicking technology.
The Moto Collection
Moto is another one of their best-selling legging lines. Designed for both style and functionality, these bottoms feature both breathable mesh and contour panelling. Engineered to lift and sculpt, they are made out of their signature Airbrush fabric and Glossy Performance fabric. Complete with moisture-wicking technology and four-way stretch.
The Allolux Collection
Their Alolux Collection includes long sleeves, short sleeves, shorts, tanks, pullovers, hoodies, and cropped shirts. What do these garments have in common? They are all cloud-soft. Extremely cozy, they are all cut from their signature Alolux performance fabric, which also happens to be moisture-wicking. Great for the studio or just lounging around.
The Airlift Collection
The Airlift Collection is, as implied by its name, ultra lightweight. Thin and comfortable with micro-performance double knit fabric, it provides you with a great second-skin feel. As with the rest of their leggings, they feature four-way stretch and moisture-wicking technology. Available in different styles including regular, high-waist, capris, and 7/8 length.
The Airbrushed Collection
Their Airbrush Collection features leggings (graphics, high-waist, capris, 7/8 length), all of which are cut from their signature Airbrush fabric. Engineered for exceptional performance, they move with you with four-way stretch. Extremely comfortable with no side seams, they are perfect for classes and hot studios.
The Ripped Collection
The Ripped Collection is exactly what it sounds like—it includes various leggings (regular, high-waist, and 7/8 length) and sports bras, all of which feature breathable laser cut details. Great for working out, the flatlocked seaming makes them incredibly comfortable to wear. Made from their signature Airbrush fabric.
The Seamless Collection
The Seamless Collection is perfect for those who are seeking comfort. Incredibly soft with intricate laser-cut detailing, the pieces are all dry wicking, anti-bacterial, with four-way stretch. Flattering for any figure, the fabric also makes it easy to move around. Includes tanks, capris, long sleeves, and leggings (over-the-heel, regular, high-waist, cropped).
How to Wash Alo Yoga Leggings, Tights and Yoga Pants
Alo Yoga sells a variety of leggings for women. While it's true that they're cut from different materials, they all fall into the synthetics category—that is, they are made from man-made fibers; this allows them to wick moisture away from the skin.
Note: The instructions below can also be used to wash their t-shirts, shorts, pants, tank tops—pretty much anything that is made from synthetic material.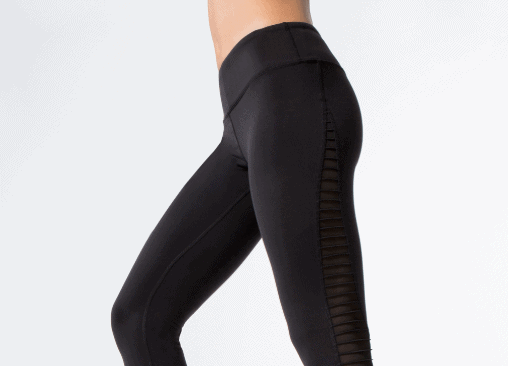 Are Alo Yoga Leggings Machine Washable?
It is completely fine to put their leggings in the washing machine. Do note, however, that you should separate them by color (something that you should always do when doing the laundry).
Turn them inside out and put them into the washer; this prevents fading and lint from sticking to the surface. Put the leggings into a laundry bag if they have laser details or rips. Otherwise, they might get snagged and damaged with the other items. Pour a small amount of ACTIVE detergent into the machine. Select a gentle cycle and wash the leggings and pants with cold water. Fabric softener should not be used on synthetic materials—it will hamper its ability to wick away perspiration.
Take the Alo Yoga leggings out when the cycle is complete. Hang them up and allow them to dry; it shouldn't take too long as they are quick-drying. Never put them into the dryer; the high temperatures will ruin the synthetic fibers over time.
Is it Better to Hand Wash Alo Yoga Leggings?
As a matter of fact, yes. While it's true that they're machine washable, the leggings will likely last longer if you wash them by hand; the washer is not exactly the gentlest, after all.
Mix a water-soap solution in a tub or container (the sink will probably be too small for your leggings)—this can be accomplished by adding a little bit of ACTIVE detergent into the water. Place the leggings in once the solution is thoroughly mixed. Leave it alone to soak for at least 15 minutes (longer if you feel that it's necessary). If there is a stain, apply extra ACTIVE detergent on the spot before soaking the leggings.
From there, gently wash each of the leggings by rubbing the material together. Eventually, when you're done, rinse the soap off with water—you can do this under the sink or in a container of clean water. Lay them out evenly on a dry towel, roll it up, and apply pressure; this will help to get rid of some of the extra water. Afterward, hang them up to dry. As pointed out earlier, you do not want to put them into the dryer.
Easiest Way to Clean Alo Yoga Headbands and Scrunchies
It's not uncommon for headbands and scrunchies to get sweaty after a yoga session. To prevent them from smelling bad, you should always clean them on a regular basis. Luckily, this is pretty easy to do.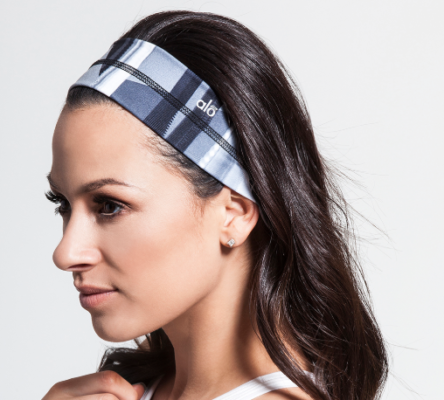 Washing Alo Yoga Headbands and Scrunchies by Hand
Given how compact they are, you can easily wash them in the sink. Fill it with water (cold is best) and add a tiny amount of ACTIVE detergent—you don't want to use too much, otherwise it can be difficult to rinse out. As always, you want to soak the items for at least 15 minutes before washing them.
Afterwards, gently wash them with your hands. You want to be careful as to not damage the elastic. Rinse them clean with water and pat them dry with a towel. Allow them to air dry. Do not put them into the dryer; the heat will quickly wear them out.
Tossing their Headbands and Scrunchies into the Wash
Alternatively, you can toss them into the washer (with other laundry). Protect the elastic by putting the items into a mesh laundry bag. When the cycle is done, take them out and hang them up to dry.
Washing Instructions for Alo Yoga Underwear and Sports Bras
Alo Yoga also sells delicates such as sports bras and underwear. As you can imagine, these items require a bit more care when it comes to washing. Generally speaking, though, they can be washed together.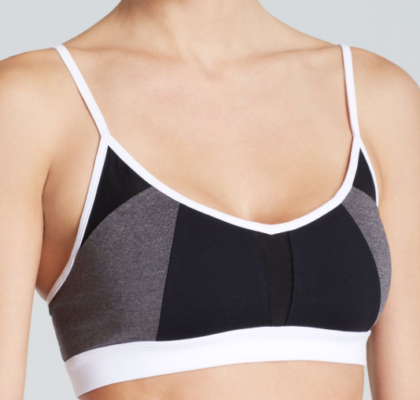 Machine Washing Alo Yoga Sports Bras and Underwear
First things first, you want to prevent them from being snagged in the wash—this is especially true for styles with lace. To do this, simply put them into individual lingerie bags (underwear in one, sports bras in another). Avoid washing them with coarse fabrics such as jeans or denim.
Pro-tip: If necessary, you can soak your delicates in soapy water prior to throwing them into the wash; this mainly helps with stains and spots.
Once they're in the machine, add the right amount of ACTIVE detergent and set it to a cold, delicate cycle. Do not use fabric softener or bleach; these chemicals will damage the material. Wait for the cycle to finish. When it's done, take the garments out of the lingerie bags and hang them up to dry. Never put them into the dryer, the elastic will get damaged by the high temperatures.
Washing the Delicates by Hand
While it's true that they're machine washable, delicates are best washed by hand. For this method, all you have to do is mix together a soapy water solution in the sink. Put in the garments once the water is thoroughly mixed. Let it sit and soak for at least 15 minutes.
After that, wash each individual piece by massaging the fabric gently; avoid stretching the elastic. When you're finished, rinse them off with water before laying them out on a dry towel. Lightly press down on the items to get rid of some of the water. Allow them to air dry. Once again, you do not want to put them into the dryer.
Best Detergent for Alo Yoga Clothes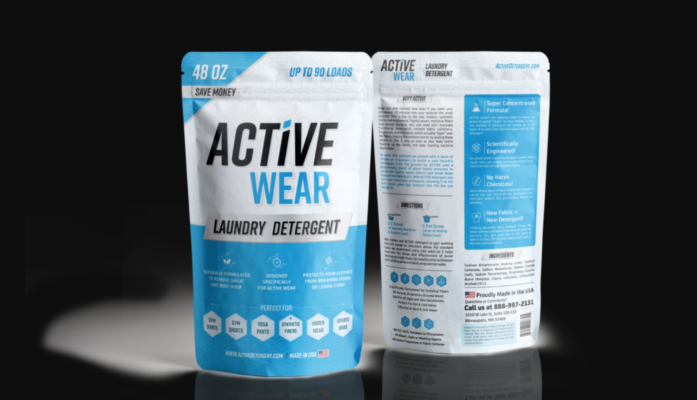 Traditional detergent is great for fabrics such as cotton and silk. However, it is not the best choice when it comes to activewear, such as those sold by Alo Yoga. For these items, you should use a detergent that is specially formulated to eliminate body oils.
Take, for example, ACTIVE detergent. Designed for activewear, it contains enzymes, which allows it to break down sweat. What does this mean? This means that you'll easily be able to wash away the stink. In contrast, you might not be able to fully get rid of the odor by using regular detergent.
Note: This promotional offer is only guaranteed through the end of the day.