Adidas is one of the largest sportswear manufacturers in the world. Aside from clothes, they also sell footwear, accessories, and sports equipment. Known for their distinctive logo, which consists of three stripes, the brand has collaborated with many famous designers in the past including Alexander Wang and Jeremy Scott. They've also worked with numerous athletes such as Gareth Bale, Lionel Messi, Paulo Dybala, and Roberto Firmino, among many others.
More About Adidas
Adidas was founded by Adolf Dassler in 1924. Working with his brother, the two put together sports shoes, which they sold under the name, Bassler Brothers Shoe Factory. It wasn't until after World War II that the company adopted its current name, Adidas.
Since then, the sportswear company has grown tremendously. Not only do they sell footwear, but they also sell a range of clothing items such as jackets, t-shirts, leggings, pants, and hoodies. As of 2023, there are more than 1,500 concept stores across the world.
A Closer Look at Adidas Activewear
Adidas' activewear line is quite extensive. This is not surprising, though—they are a world famous sportswear company after all. For one thing, they sell a variety of athletic shoes that are designed for sports such as tennis, golf, basketball, weightlifting, and soccer.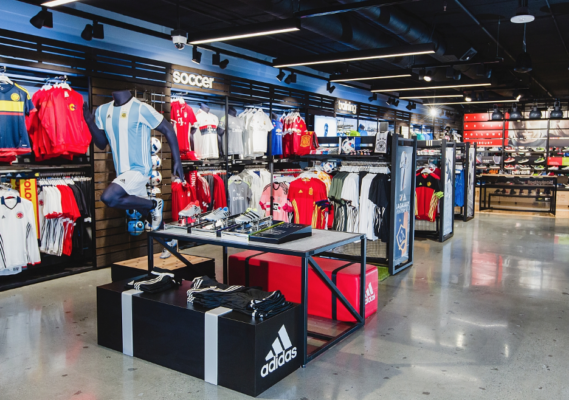 They also sell a substantial amount of athletic clothing. To give you a better idea, their catalogue consists of leggings, tights, jackets, sweatshirts, hoodies, jerseys, and more. As expected from a well-known brand, however, some of their products can be costly. For instance, several of their sneakers go for more than $300.
Taking Care of Adidas Activewear 
Given the cost of their products, it only makes sense to care for them properly. Who would want to ruin a good jacket after wearing it just a couple of times?
Now you're probably wondering—"how should I take care of my Adidas activewear?". The answer is simple; you want to pay attention to how you wash them. Are you using the right type of detergent? How are you drying them? What other products are you adding to the washing machine? These are some of the things that you want to consider when you're doing your laundry.
Don't worry if you're not too sure on how to wash their clothes—we'll be going over the instructions later on this page. Before we delve into that, however, let's check out some of Adidas' proprietary fabrics; the material dictates how the items should be washed, after all.
Fabrics Used by Adidas
Adidas uses a variety of proprietary fabrics in their apparel. We'll be going over some of the major ones below.
Climacool by Adidas
Climacool by Adidas is specially engineered to help regulate body temperature. Made out of moisture and heat-dissipating materials, it is noted for being able to conduct heat and sweat away from the body. Not only that, but it also features ventilation channels that allow air to circulate close to the skin. In doing so, it keeps the wearer dry even during high-intensity workouts.
Their Climacool collection consists of tights, crop tops, tees, workout pants, sports bras, jerseys, skirts, and more.
Climalite by Adidas
Climalite is designed to keep you cool and dry during warm temperatures. Moisture-wicking, the material helps to prevent the buildup of sweat and heat—two common issues with traditional fabrics. Its design is also highly innovative; it contains cotton on the outside and cool-to-the-touch synthetic fibers on the inside—this combo makes for a soft, comfortable feel.
Their Climalite collection consists of tees, bras, tights, leggings, tanks, sweatpants, hoodies, hats, and more.
Climaheat by Adidas
Climaheat is unique in that it is designed to trap heat close to the body. Perfect for cold weather situations, it also comes with moisture-wicking properties that will keep you both dry and comfy. Ultra-soft, it will provide you with enough warmth without losing mobility.
Their Climaheat collection consists of jackets, vests, zip tops, and more.
How to Wash Adidas Leggings, Yoga Pants, and Tights
Adidas bottoms can be washed by hand or machine. As with all activewear, however, there are certain things that you want to be careful with.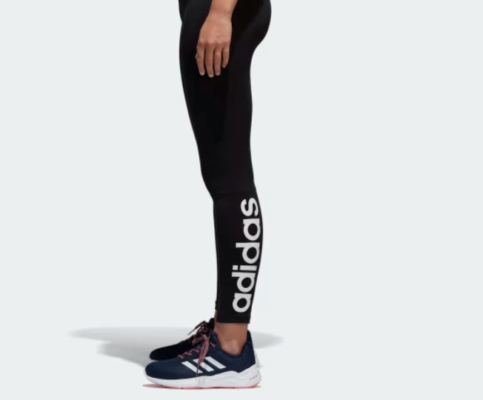 Note: Always read the care instructions label before washing a new pair of leggings, yoga pants, or tights
Putting Adidas Leggings, Yoga Pants and Tights in the Washing Machine
Turn the leggings, tights and yoga pants inside out prior to loading them into the machine. This will not only prevent the colors from fading, but it will allow for a more thorough wash as the inner layer is exposed to water and detergent. You can wash the bottoms with other laundry as long as their colors are alike. Due to the possibility of snagging, however, avoid putting it together with coarse items such as jeans or jackets.
Pro-tip: You can protect the leggings and pants by putting them in their own laundry bag. Don't have one? Try using a pillowcase.
Prepare the washer by adding a scoop of ACTIVE detergent. Put the bottoms in and wash with a gentle cycle with cold water. Avoid hot water if you can—the heat will deteriorate the fibers and elastic. Do not use fabric softener as that will ruin the fabric's sweat-wicking finish. If necessary, you can soften your pants by adding a bit of white vinegar with the detergent.
Wait for the cycle to completely finish before taking out the items. Hang them up on a clothesline; it shouldn't take too long for them to air dry. Never put the leggings in the dryer; that's the quickest way to ruin the fabric.
Washing Adidas Leggings, Yoga Pants and Tights in the Sink
Their leggings and pants are also easy to wash in the sink. Start by filling it with cold water—you don't want it to be too full, that will only make it harder for you to wash everything later. Add one scoop of ACTIVE detergent and mix until soap suds are visible. Carefully submerge the bottoms into the liquid. Swirl it a few times and allow it to sit for at least 30 minutes.
The leggings are ready to be washed once they've been soaked. Using your hands, wash each pair individually by rubbing the material against itself. Repeat for all of the items. When you're finished, rinse off the soap suds with clean water—you might have to do this a few times to get rid of all of the detergent. When that's done, lay them flat on a clean surface. Never wring the pants—you wouldn't want to ruin the fabric's elasticity, would you? If necessary, you can use a towel to gently press out some of the extra water. Allow them to dry naturally on a clothesline or on a drying rack.
Note: Adidas joggers, shorts, skirts, polos, and jerseys can be washed in a similar fashion.
How to Safely Clean Adidas Swimwear
Adidas offers a variety of swimwear for men, women, and children. Despite the different styles that they come in, they can all be washed in the same way.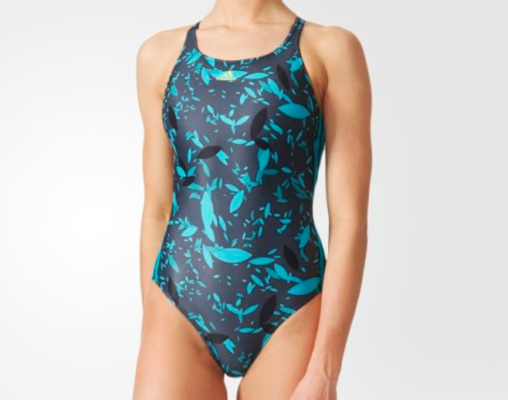 First things first—you want to rinse your swimsuit (or trunks) with water as soon as you take them off. This will remove any chlorine or sunscreen that is on the fabric. Once you've done that, put them in the sink or in a small container. Fill it with cool water and add one scoop of ACTIVE detergent. Mix the solution together and allow the swimsuit to soak for at least 30 minutes.
Afterward, gently wash the swimsuit by rubbing the fabric between your fingers. Rinse the detergent off with clean water when you're finished. Never wring these delicate items like a cloth or a towel. Instead, lay it on a clean towel. Carefully roll it up with the swimsuit to remove the excess water; you can also press down lightly on the towel. Hang the swimsuits up in the bathroom and allow them to drip dry. Never should you put them in the dryer!
Pro-tip: Do not put your swimsuit into the washing machine if it can be avoided. There's a great chance that the tossing and throwing that occurs during a wash cycle will damage the technical fibers.
Washing Instructions for Adidas Sports Bras and Underwear
Adidas sports bras and underwear are also machine washable. As with all delicates, however, you want to pay a little extra attention to these garments.
Putting Adidas Sports Bras and Underwear in the Washer
It is highly recommended that you put your sports bras and underwear in their own mesh laundry bags—this will prevent them from snagging on your other clothes, which can ruin the fabric (especially if there is lace). In a pinch, you can use a clean pillowcase, which will serve the same purpose. Avoid washing them with heavy items such as jeans, towels, and sweatshirts.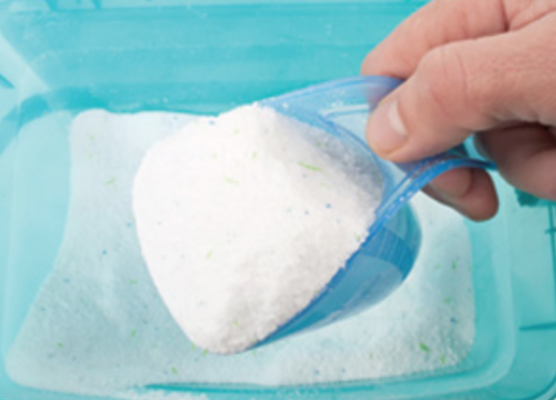 Place the items inside and add two scoops of ACTIVE detergent. Wash everything with a cold, delicate cycle. Do not use hot water—the heat will ruin the elastic over time. Avoid using softeners; these products will ruin the fabrics' moisture-wicking abilities.
Wait for the cycle to finish completely before taking out the laundry bags. Remove the underwear and sports bras and hang them dry on a clothesline; drying racks are great as well. Never put your delicates in the dryer—the high heat inside the machine will damage the fibers and elastic. It shouldn't take too long for them to air dry.
Washing Adidas Sports Bras and Underwear by Hand
Washing your sports bras and underwear by hand is a great way to ensure that they will last a long time. As you can imagine, this method is much gentler than using the washer.
Begin by filling the sink or tub with cold water. Add one scoop of ACTIVE detergent and mix the solution with your hand. Submerge the bras and underwear into the liquid—be careful not to overload the sink with the items. Pre-treat everything by soaking them for at least 30 minutes.
Pro-tip: You can remove stains by applying ACTIVE detergent (you will have to mix it with water beforehad) directly to the spot. Allow it to soak through completely before pre-treating the entire garment with detergent.
nThe sports bras and underwear are ready to be washed after soaking. Lather your hands with soap and gently massage the fabric. Repeat for all of the items. When that's finished, rinse everything with water—continue until the water turns clear. Lay them flat on a towel, which you can use to get rid of some of the extra moisture. Hang them up to dry. Do not put them in the dryer.
Best Laundry Detergent for Adidas Activewear
Want to make sure that your Adidas activewear is clean after every wash? If so, consider using ACTIVE detergent. Unlike other products, it is specially formulated with enzymes to remove sweat, oils, and bacteria from sportswear. That's right—it is capable of penetrating deep into the technical fibers, where all of the gunk is. Not only that, but it contains surfactants and chelating agents, which will restore the fibers to their natural state once everything is done. In other words, your activewear will last much longer.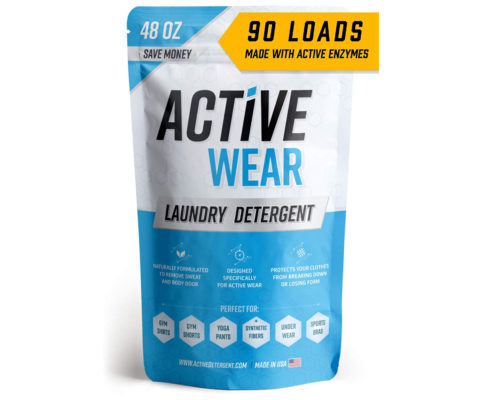 Worried about chemicals and fragrances? Don't be. ACTIVE detergent is 100% all-natural; it contains no fragrances or fillers. This makes it the perfect product for those with sensitive skin!
Note: This promotional offer is only guaranteed through the end of the day.