90 Degree by Reflex is a lifestyle brand that manufactures activewear for men, women, and children. A subsidiary of Reflex Performance Resources Inc., their mission is to provide garments with style, performance, fit, and comfort. Not only that, but they aim to produce products that are affordable and accessible for consumers.
More About 90 Degree by Reflex
The brand sells a variety of apparel for women including leggings (their best seller), shorts, jackets, hoodies, sports bras, and tanks. While they also have a collection for men, the selection is significantly smaller with just a few tops and bottoms. Their children's line, however, is quite extensive with various products from yoga shorts to skirts.
As of 2023, 90 Degree by Reflex has one brick-and-mortar store in New York. Considering that, it's probably fair to say that most of their sales are online. Aside from their official website, their apparel is available for purchase on Amazon, on which they've earned many positive reviews. The brand is also available at other online retailers such as Walmart, Zappos, Kohls.
A Closer Look at 90 Degree by Reflex Activewear
The company is best known for their leggings, all of which are made from high-performance fabrics. Like many brands, they offer a variety of styles including high rise, 7/8 ankle, and capris leggings. One thing that sets them apart from the rest, however, is the fact that they offer plus sizes for women.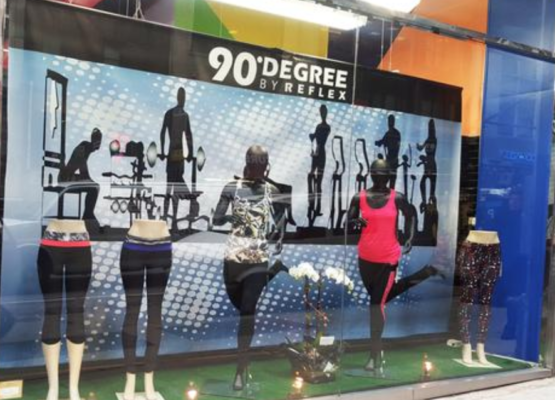 Cost-wise, their products are very affordable (that's one of their missions after all). To give you a better idea, you can easily buy a pair of leggings for under $30. Their tops are also inexpensive; for instance, their performance jackets go for $44.99. 
Taking Care of 90 Degree by Reflex Leggings and Clothing
As with all clothing, their leggings and tops do wear out over time. Luckily, they're not a huge investment. But still—wouldn't you want to get your money's worth and have them last a bit longer? Ultimately, the key is on how you wash them. As you probably already know, it's easy for clothes to deteriorate in the wash—activewear is not an exception.
By washing them properly, you'll be able to extend their lifespan. Not too confident about your clothes washing abilities? No worries, we'll be going over the exact steps on this page. Before we do that, though, let's have a look at the various fabrics used by 90 Degree by Reflex. After all, that dictates the washing instructions.
Fabrics Used by 90 Degree by Reflex
Power Flex
Their Power Flex fabric is cool-to-the-touch with a smooth texture. There are two different versions—one that is made from nylon and another that is made from polyester; both contain spandex for stretch. A mid-weight option, it is used for their Everyday Essentials.
HyperTek
Their Hypertek collection features a dry, textured surface, which provides a considerable amount of grip. A heavy-weight option, it consists of 80% nylon and 20% spandex.
Supplex
Supplex is one of the signature fabrics by Invista. Soft to the touch, it offers the feel of cotton and the durability of nylon. Not only is it lightweight, but it is waterproof, breathable, and anti-abrasion; it also provides freedom of movement, which makes it perfect for athletic apparel.
Trilux
Their Trilux fabric is silky smooth and moisture resistant. A midweight option, it provides enough support for most physical workouts. Consists of 82% nylon and 18% spandex.
Super Flex
Their Super Flex fabric is known for its incredible holding power and flexibility, the latter of which makes it perfect for yoga. Unlike their other fabrics, it features a dry matte finish. Made out of 60% nylon and 40% spandex.
Interlink
Their Interlink fabric is squat proof with complete coverage. Incredibly smooth, it is stretchy and flexible, which makes it perfect for a variety of activities. Made from 72% polyester and 24% spandex.
How to Wash 90 Degree by Reflex Leggings
With that out of the way, let's take a look at how to wash their leggings.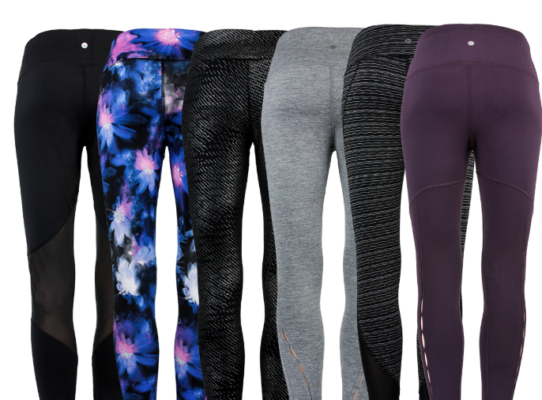 Washing 90 Degree by Reflex Leggings in the Washing Machine
You can safely put their leggings and yoga pants in the washing machine. To start, flip them inside out. Not only will that prevent the colors from fading, but it will expose the inner layer to the outside, where the water and detergent are (i.e. it will be easier to wash away the oils and sweat). You can wash them with other clothes as long as they don't have hardware such as zippers or velcro, which can easily damage the fabric. If you want, you can also put the bottoms in a mesh laundry bag for extra protection.
Pro-tip: Always be mindful of the colors that you're dealing with. Never mix light-colored pants with dark-colored ones; the dyes can easily bleed in the wash.
Add a scoop (or 2 scoops, depending on how many pairs you're washing) of ACTIVE detergent to the machine. Place the leggings in and wash with a cold, delicate cycle. Do not add fabric softener—it will minimize the leggings' sweat-wicking properties. Avoid using bleach.
Take the bottoms out when the wash cycle is finished. Turn them right side out and allow them to dry on a clothesline. Alternatively, you can drape them on a drying rack. Do not put the leggings and yoga pants in the dryer—the warm air will damage the technical fibers over time.
Washing 90 Degree by Reflex Leggings by Hand
Don't want to use the washing machine? No problem—why not wash them by hand? Despite what it sounds like, the process is easy and straightforward.
Begin by filling the sink with cold water. Add half a scoop of ACTIVE detergent to create a soapy mixture (you'll have to mix it with your hands). Place the leggings and yoga pants in the solution; make sure that all of the fabric is submerged in the liquid. Let them sit in the sink for at least 15 minutes—this will make the later steps easier.
After soaking the leggings, pick them up and wash them with your hands. You can do this by gently rubbing the fabric together between your fingers or against itself. From there, put the items under the faucet to rinse out the detergent. When you're finished, lay them flat on a clean surface. Gently squeeze out the excess water; never twist or wring the leggings—those types of movements will damage the material. If necessary, pat them down with a clean towel.
Hang them up to dry. Avoid putting them in the dryer—as mentioned earlier, that will likely shorten the items' lifespans.
Getting Stains Out of 90 Degree by Reflex Leggings
It's not uncommon for your leggings to get stained from time to time—whether it's from sweat or mud. Luckily, they're fairly easy to take care of.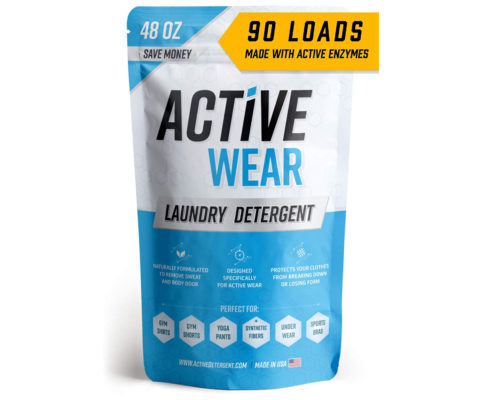 Mix a small amount of ACTIVE detergent with water to create a cleaning solution. Add it directly to the stained area. Gently rub it into the fabric using your fingers or a brush. Wait for it to soak through completely before putting the item in a tub of soapy water. Allow the leggings to sit for 30 minutes (more, if necessary) before washing as normal.
Alternatively, you can create a paste by mixing baking soda and water. Apply a liberal amount onto the problem area. Wait a couple of minutes before soaking the item in the sink with water and ACTIVE detergent. Wash as normal after 30 minutes.
Washing Instructions for 90 Degree by Reflex Sports Bras
Their sports bras are another big seller. They offer three varieties—ones that provide light, medium, and high support.
Can You Put 90 Degree by Reflex Sports Bras in the Washer?
Yes, you can. As with most delicates, however, you want to put them in a mesh laundry bag; that will prevent the elastic and fibers from being stretched and damaged. If you don't have one, you can improvise with a clean pillowcase—just tie it off with a rubber band. You can put them in the same load as other clothing as long as they're of similar colors (e.g. lights with lights, darks with darks).
Pro-tip: If there are noticeable odors, soak the sports bra in a water-detergent solution before putting it in the machine.
Place the laundry bags into the washing machine. Add half a scoop of ACTIVE detergent and wash the sports bras on a delicate cycle. Always use cold water; hot water will likely damage the fabric over time. Do not use fabric softener—these chemicals will limit the bras' moisture-wicking abilities. If necessary, add a small amount of white vinegar as a softening agent.
Wait for the cycle to finish before taking out the sports bras. Remove them from the mesh bags and drape them on a drying rack. You can also hang them up on a clothesline to dry. Do not put the bras into the dryer; the high temperature of the machine will damage the fabric.
Hand Washing 90 Degree by Reflex Sports Bras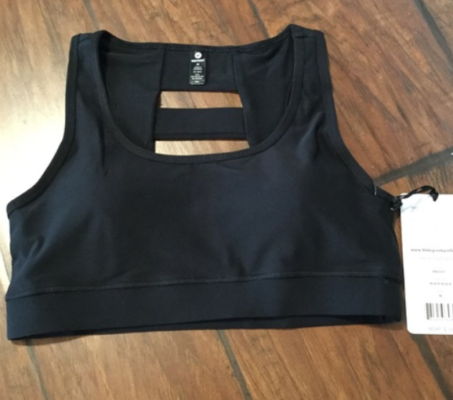 As with most sports bras, you can also wash them by hand. In fact, it's the best choice when it comes to extending their longevity. Not only is it more gentle than the machine, but it doesn't require the use of any electricity!
Start by filling a tub or sink with cold water. Create a soapy mixture by mixing in half a scoop of ACTIVE detergent. Place the sports bras in once soap suds are visible—make sure that the entire garment is submerged. Leave it in the liquid for at least 15 minutes.
Gently clean the bras by massaging the fabric; you can do so by rubbing the material against itself or between your fingers. Swirl them in the solution a few times and rinse out the detergent with water. Never wring or twist the bra—that will disfigure its structure. Instead, place it on a clean towel and press down to remove some of the water. Do not put it in the dryer.
The Best Way to Clean 90 Degree by Reflex Jackets and Hoodies
The brand also offers a variety of jackets and hoodies, all of which are made from technical fibers.
Tips on Washing Their Jackets and Hoodies
Both of these items are machine washable. Remember to zip them up before loading them in—that will prevent the zipper from damaging the rest of your clothes. For the best results, turn the garment inside out and put them in a laundry bag. Avoid washing their jackets and hoodies with delicates like bras and underwear.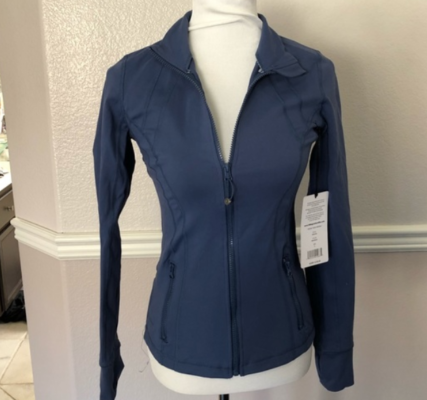 Add a scoop of ACTIVE detergent and wash them on a gentle cycle; always use cold water. As with the rest of their clothing, you do not want to use any fabric softener. Wait for the cycle to finish before taking the jackets and hoodies out. Hang or lay them out to dry.
Note on Hand Washing: Their jackets and hoodies tend to be a bit bulkier than the rest of their items, which can make them difficult to hand wash in a sink. For this reason, it is advised that you do so in a large container or tub. Soak them in a detergent-water mixture, before rubbing and washing the fabric with your hands.
Best Laundry Detergent for 90 Degree by Reflex Leggings and Clothing
90 Degree by Reflex sells a variety of activewear. Naturally, you'd want to use a product that's specially formulated for this type of clothing. Consider ACTIVE detergent.
ACTIVE detergent is specifically engineered for athletic clothing. Unlike regular detergents, which are meant for "more conventional fabrics", it contains enzymes that are capable of dissolving all of the grime (e.g. bacteria, sweat, dirt, oils) that is locked within the technical fibers. Not only that, but it contains natural chelating agents as one of its ingredients; these substances will revert the fibers back to their normal state. In other words, it will extend the life of your activewear.
Did we also mention that it's hypoallergenic and great for sensitive skin?
Note: This promotional offer is only guaranteed through the end of the day.