Heathyoga is a brand that specializes in yoga gear. Aside from apparel, they also sell yoga mats, yoga towels, and accessories such as headbands, knee pads, and mat straps. It's worth mentioning that they offer wholesale opportunities as well.
More About Heathyoga
Heathyoga is a family business that specializes in yoga creations. Their goal is to offer the most suitable and eco-friendly equipment so that everyone can begin their own yoga journey. Aside from their official website, they also have an online store that you can check out on Amazon.
Judging from the reviews that they've received on the site, their most popular products are their yoga pants, non-slip mat, and headbands.
What Kind of Yoga Pants Do They Offer? 
Heathyoga offers various styles of yoga pants. For example, there's their classic pants and their bootcut pants, both of which come with pockets (because let's face it, it's a necessity nowadays). Color-wise, both varieties are available in multiple shades from purple to black.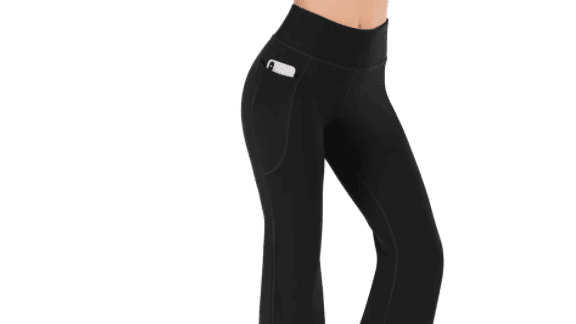 As far as affordability goes, their yoga pants are budget-friendly. I wouldn't say that they're the cheapest option out there but they definitely won't break the bank. For those who are curious, you're looking at around $25 for a pair.
Tip: For those who want to save some money, make sure to buy through Amazon. Why? They offer free shipping above $25 whereas on their official website, you only get free shipping if you're order is more than $35.
Taking Care of Heathyoga Leggings and Yoga Pants
Their yoga pants are very well made. For one thing, they're squat proof. In other words, the fabric is not see-through. Made from a soft, stretchy material, you can wear them for almost any type of workout from yoga to running.
Whatever you end up doing, just make sure to give them a good wash once you get home. You don't want to leave a pair of sweaty yoga pants lying around in the house—that's a no-no. Not only will it smell (assuming that you've sweated), but it can also breed germs.
The way you wash them, however, matters. For example, you never want to use fabric conditioners. They might soften things up but it'll be at the expense of the garment—that is, it'll lose its moisture-wicking abilities. This means that sweat will stay on your skin for longer while you're exercising, which can lead to that icky clammy feeling.
Materials Used By Heathyoga
Why is it important to go over the materials that they use? Because it dictates how you should wash the items! For the purpose of this post, let's take a look at the two fabrics that they use for their yoga pants—polyester and spandex (their yoga pants are 75% polyester and 25% spandex).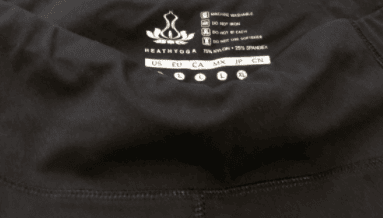 Polyester
Polyester is often used to make athletic wear. As it is, there are many reasons for this. Not only is it lightweight, but it's also durable, breathable, and quick-drying. In addition to that, it's moisture-wicking, which means that sweat will be able to leave your skin and evaporate from the surface. Pay attention to the label next time you're wearing activewear—you'll probably see it on the label (sometimes mixed with other fabrics, which is the case with these yoga pants).
Spandex
Spandex (elastane and Lycra all refer to the same thing) is different from polyester in that it's super elastic. As far as activewear goes, it's used to give the garment stretch; it also helps to support the shape of the item, which is important for close-fitting clothes. Besides yoga pants, spandex fibers are often used for other things such as leggings, sports bras, swimsuits, etc.
How to Wash Heathyoga Leggings
Want your Heathyoga leggings to last? Then make sure that you're laundering them properly. Here are a couple of ways that you can do that:
Method 1: Use the Washing Machine
When it comes to pants, you always want to turn the fabric inside out—and leggings are no exception. That way, you'll be able to slow down the wear and tear on the outside (the inner layer will be exposed to the friction instead). From there, the next step is to put the yoga pants in a mesh laundry bag. While it's not absolutely necessary, it'll help prevent them from getting snagged.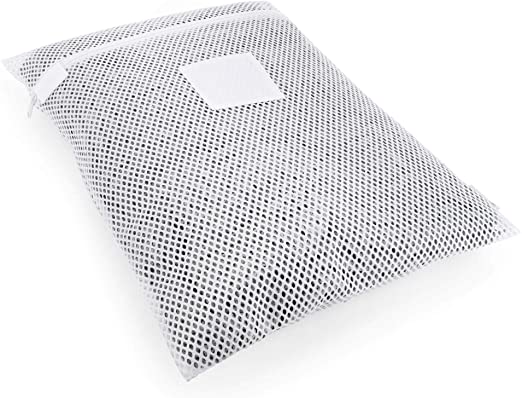 Pro-tip: You can wash your Heathyoga leggings with other brands of activewear. Just don't put them in the same load as denim, or items with zippers.
Place the mesh laundry bag into the washer, along with the rest of whatever you're washing. For the best results, add one scoop of ACTIVE detergent. Once the powder is in, start a cold wash cycle on a delicate setting. We mentioned this earlier in the post but you want to avoid using fabric softeners.
Wait for the washing machine to do its thing. Take out your clothes afterward—it's important that you don't leave them in for longer than necessary as that breeds germs. Lay your yoga pants on a flat surface (a table with a clean towel works great) and let them air dry. You can also use a clothesline, just make sure it's not under the sun.
Method 2: Washing Them Manually By Hand
Their yogas are not difficult to wash by hand at all. All you need is a sink (or bucket), water, and detergent. The first step? Turn the pants inside out so that the inside is on the outside and vice versa. For those who are wondering, you can wash more than one item at once as long as you don't overfill the sink.
Turn on the tap and fill the sink with cool or lukewarm water. Add in 1/2 to 1 scoop of ACTIVE detergent (it depends on how many items you're washing) and wait for it to dissolve before adding in your yoga pants. Gently press down on the fabric so that it sinks to the bottom—you want the entire item to be saturated with water and detergent. Avoid scrubbing or twisting motions as they can harm the fabric.
Let your yoga pants soak for 20-30 minutes. After soaking, you want to rinse off the ACTIVE detergent. To do this, drain the sink so that you can refill it again with water. Massage the fabric briefly before swishing it around to remove the soap. Afterward, rinse it again by holding it under running water (make sure that it's cold). Continue this step until there's no more detergent left in the fabric (i.e. no more soap bubbles).
Remove the excess water from your yoga pants by pressing on them gently with your hands. Allow them to air dry afterwards. Avoid direct heat sources—this includes clothes dryers.
Pre-soaking Your Leggings
Consider pre-soaking your Heathyoga leggings before washing them by machine or hand (you can soak multiple items together as long as they're of similar colors). It's a great way to ensure that they'll be clean after laundering. It's straightforward as well—simply dissolve half a scoop of ACTIVE detergent in a tub and put the item in. You can also add distilled vinegar if the smell is an issue.
There's no need to rinse the leggings after soaking—you can transfer them directly to the machine or sink for washing.
Washing Instructions for Heathyoga Headbands
Heathyoga offers headbands that you can wear to keep hair out of your face while you're working out. If anything, they'll get just as sweaty as your leggings, if not more so (seeing as how they're worn on your head). The good news is that they're also easy to wash.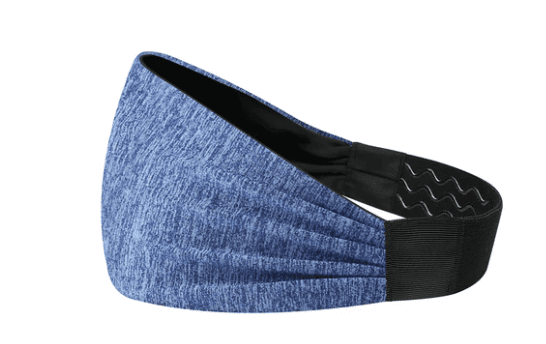 Method 1: Machine Wash Them With Your Leggings
Their headbands are made from a nylon and spandex blend. In other words, they're similar to the leggings in terms of material. If you want, you can just put them in the washing machine together in the same load. Make sure to put them in a laundry bag so that the elastic won't get stretched while everything is being washed.
Method 2: Wash Them By Hand
You can also wash the headbands by hand. If anything, you can do it at the same time as your leggings. The key is to submerge the headband completely in the sink so that it's saturated with detergent. From there, let it soak before washing the soap off. It shouldn't take that long for the headband to dry at all. Don't put them in the dryer—it'll ruin the elastic that's keeping it together.
Best Laundry Detergent For Heathyoga Leggings and Headbands
ACTIVE detergent is a laundry detergent that's designed for athletic clothing. That is, its formula is geared toward synthetic fabrics such as polyester, spandex, nylon, etc. For an average load of laundry, all you need is one scoop of the powder (scoop is provided)!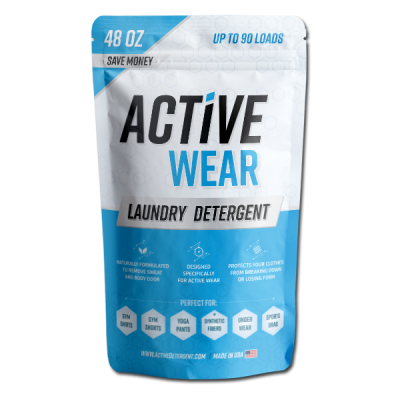 How's the powder different from those of other brands? It consists of plant-based enzymes aka tiny proteins that are able to break down dirt and sweat that's trapped deep in the fibers. As it is, this isn't something that "normal" detergents are capable of doing—they're more for traditional fabrics such as cotton.
The benefits of ACTIVE detergent don't stop there. It's also hypoallergenic and all-natural. It does not contain any added fragrances either.
Note: This promotional offer is only guaranteed through the end of the day.