Calvin Klein is a fashion house that specializes in leather. They sell a variety of clothing including dresses, pants, blouses, jackets, and activewear. On top of that, they also manufacturer jewelry, watches, home furnishings and fragrances.
More About Calvin Klein
Calvin Klein started as a coat shop in New York City in 1968. By the early 70s, the company had begun to sell other products including lingerie, blazers, and sportswear. Not long afterward, the brand won their first Fashion Critics' Award for a womenswear collection. With that, their annual revenue reached the $30 million mark.
As of 2023, there are more than 3,700 Calvin Klein stores worldwide. Aside from the United States, they also operate in Canada, Japan, Brazil, Italy, Hong Kong, and more. Altogether, the brand covers over 35 countries.
A Closer Look at Calvin Klein Activewear
Calvin Klein offers a wide range of activewear as part of their clothing line. For instance, they sell tanks, leggings, joggers, track pants, shorts, swimwear, bodysuits for both men and women. They also have a small range of items for children.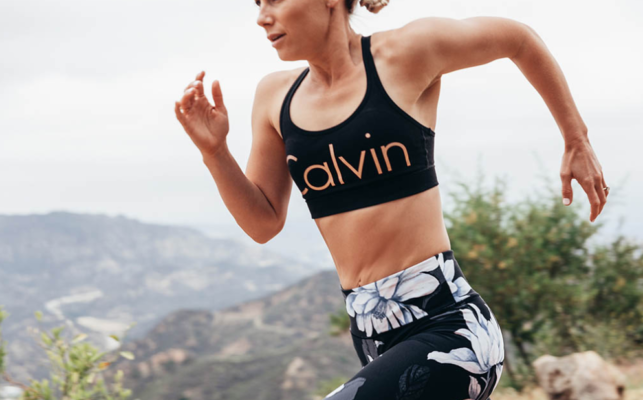 Price-wise, their products are not particularly cheap; this is to be expected, though, from an established fashion house. Take their sport leggings, for instance, some are over $100. With that said, they do have sales from time to time. You might just be able to get a good bargain with the right timing!
Taking Care of Calvin Klein Activewear
The great thing about Calvin Klein is that their activewear is not flimsy—in fact, it is quite durable. You know what they say, you get what you pay for. Quality-wise, their products are well constructed.
Having said that, they will get worn out over time; the elastic will stretch and the fabric will start to pill. Unfortunately, we can't prevent this from happening—that's just the way things are. But we can definitely prolong the garments' lifespan.
The key is to wash them carefully, according to their instructions. The last thing that you want to do is to throw them into the washer with everything else. There are certain things that'll ruin the fabric quickly. Obviously, you'd want to avoid that if you want the items to last.
But what's the proper way of washing Calvin Klein activewear? What type of laundry detergent should you use? Should you use hot or cold water? These are some of the things that we'll be going over later. Before we get into the washing instructions, though, let's go over some of the fabrics and materials that they use for their performance wear.
Fabrics Used by Calvin Klein Activewear
Most of their activewear is made from technical fibers such as polyester and spandex. What's so special about these materials? Let's find out.
Spandex
Spandex is unique in that it's incredibly elastic. Rearrange the letters and you've got yourself the word "expand", which makes sense—it can extend up to five times its length! As far as activewear goes, it's often blended with other fibers such as polyester, nylon, sometimes cotton. Why? It provides the garment with the stretch that it needs for exercising purposes.
Polyester
Polyester is probably the most common synthetic material that you'll come across. Durable and cheap, it's great for a variety of clothing—not just activewear. Not only does it dry fast, but it features a moisture-wicking finish, which allows athletes to stay dry during their workouts. Did we also mention that it's resistant to abrasion, wrinkles, and creases?
Rayon
Rayon is often referred to as artificial silk. On top of being shiny, it drapes well, just like the real thing. Incredibly comfortable, it's commonly used in activewear and dresses. Inexpensive, it's not prone to pilling or fading. One of the only cons is that it tends to weaken when wet.
How to Wash Calvin Klein Leggings and Yoga Pants
Most of their leggings and yoga pants are made from polyester or rayon, with a bit of spandex blended in.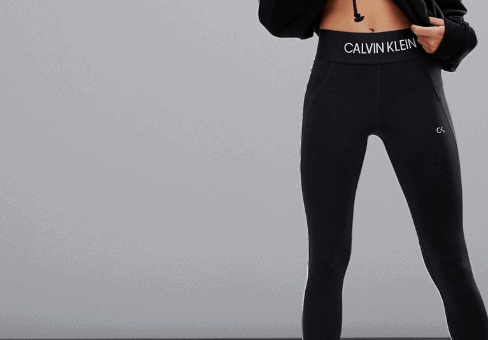 Are Calvin Klein Leggings and Yoga Pants Machine Washable?
As it turns out, all three of these materials are machine washable. So yes, you can go ahead and put them in the machine. Before you do that, however, turn them inside out—that will prevent the outer layer from rubbing against the rest of your clothes (assuming that they're washing them with other garments). Not only that, but it'll expose the gunk to the water and detergent, which means that it'll be easier to wash!
If necessary, you can protect them from your other laundry by putting them in a net laundry bag. A clean pillowcase works too! You just need something to tie the end with.
Pro-tip: Always separate your leggings and yoga pants according to color. You can wash them with other clothing (activewear preferred) as long as their colors match. Having said that, it's probably not a good idea to put them together with things like denim jackets or jeans.
Add one scoop of ACTIVE detergent to your washing machine. Choose a delicate cycle and wash with cold water—never hot water; hot water can be aggressive on your fabric (i.e. it will wear out quicker). Make sure that you do not use any fabric softeners—these "conditioners" will coat your leggings and yoga pants with a thin layer of chemicals that will prevent it from pulling sweat from your skin. If you want to use something to make them softener, use white vinegar.
Wait for the washing machine to finish the cycle. Once it's finished, take out the garments. Do not leave them in there—bacteria will grow and make them smelly! Lay them flat to dry or hang them up on a clothesline. Whatever you do, avoid using the dryer. The intense heat is the quickest way to have a pair of damaged leggings.
Is It Better to Hand Wash Calvin Klein Leggings and Yoga Pants?
The short answer is yes. Ideally, you want to wash your leggings and yoga pants by hand all the time—that'll ensure that they'll last a long time. With that said, it's not always practical. Still, it's a good idea to wash them by hand every once in a while. As with machine washing, you can hand wash them with other clothes as long as you're not mixing light with dark-colored items.
Start by filling your sink with cold water—you can also use a bucket or a tub. Add a scoop of ACTIVE detergent to the water. Mix the liquid with your hand until bubbles appear. Once you see them, put your leggings and yoga pants in. Be careful of the water spilling out! Press down on the bottoms to submerge them fully in the detergent mixture. Let them sit in the sit for 30 minutes; this "pretreating" process will make them easier to wash.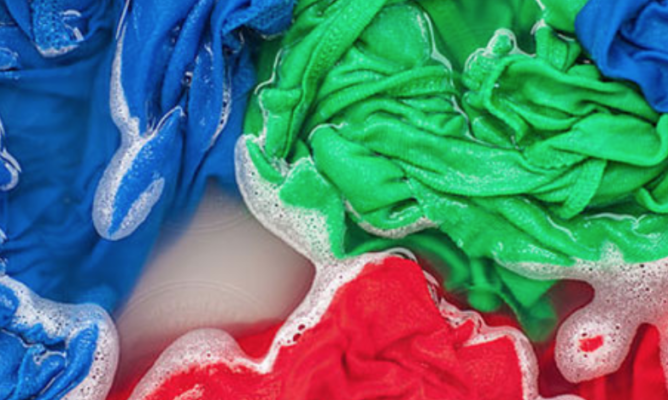 Pro-tip: ACTIVE detergent can be used to remove stains. Apply a generous amount to the problem area—make sure to saturate the entire spot. Leave it on for at least 15 minutes before washing as normal.
After soaking, pick them up from the sink. Rub the material gently to remove any debris, sweat, and body oils from the fabric. When you're finished, drain the water. Rinse the leggings and pants under running water to remove the detergent—continue until the water becomes clear. You might have to do this for a couple of minutes.
Transfer your leggings and yoga pants to a clean table or surface. Pat it down with a clean towel to get rid of some of the water that's in the fibers. When you're done, lie them flat to dry. Alternatively, you can put them on a clothesline or drying rack. Remember not to put them in the dryer!
Note: You can wash their shorts and tops in the same ways—either by putting them in the washer or by hand.
Washing Instructions for Calvin Klein Sports Bras
As mentioned earlier, they also sell sports bras for women. Most, if not all of them, are made from polyester or nylon—so yes, you can put them in the washing machine!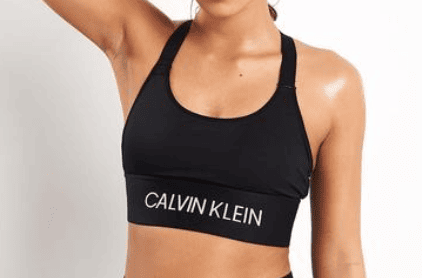 How to Wash Calvin Klein Sports Bras With the Washing Machine
The important thing about their sports bras is that you want to treat them as delicates. In other words, you want to put them in a mesh laundry bag—that will prevent the elastic from stretching and the fabric from snagging. You can wash them with other garments as long as you avoid "coarser" items such as jeans or denim jackets. As always, you want to be careful about the colors as well.
Add one scoop of ACTIVE detergent to your washing machine. Load your sports bras (and the rest of your laundry) in and wash on a delicate cycle. Remember to use cold water—hot water is not suited for washing activewear. Do not add any bleach or fabric softeners; those types of products will damage the clothing fibers as well. Want to soften up your bras? Try using white vinegar instead.
Grab a book and wait for the cycle to finish. Take out the items once the machine is finished. Allow them to air dry by hanging them up or by draping them on a drying rack. Do not put them in the dryer unless you want to buy new sports bras.
Washing Calvin Klein Sports Bras by Hand
Their sports bras can also be washed by hand. What you want to do is to fill the sink three-quarters full with cool water; add a scoop of ACTIVE detergent and mix. Put the sports bra in and gently press down to immerse them in the liquid. Make sure that all of the fabric is soaked before letting it sit for 30 minutes.
Swirl the bras a few times in the detergent-water. Pick them up and wash by massaging the fabric. Once they're clean, rinse them under tap water; continue until the water becomes clear and that there is no detergent left on the bra. From there, transfer it onto a dry towel—you can use it to press out some of the dampness. Put it on a drying rack or clothesline to dry afterward. Avoid using the dryer!
Best Laundry Detergent for Calvin Klein Activewear
ACTIVE detergent is an ideal product for washing Calvin Klein activewear. Unlike conventional products, it is specifically designed (by a team of chemical engineers nonetheless) to remove gunk from athletic clothing. That is, it contains plant-based enzymes that will physically break down the sweat, body oils, and bacteria on your clothes.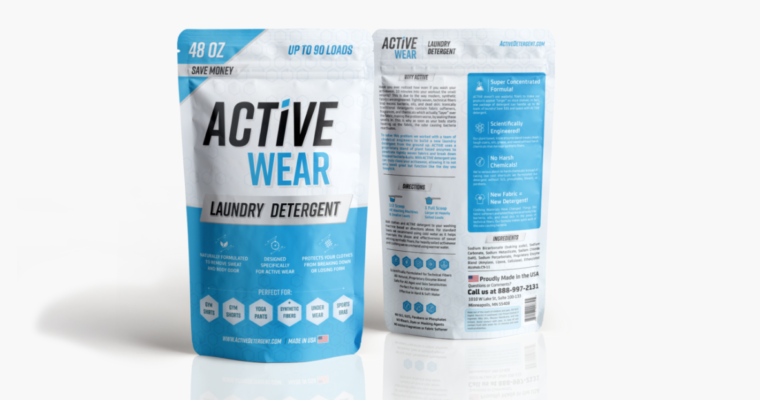 Not only will your garments be cleaner, but they'll also last longer. The great thing about ACTIVE detergent is that it's also suitable for sensitive skin—it does not contain any irritating chemicals whatsoever.
Note: This promotional offer is only guaranteed through the end of the day.