Beyond Yoga is a female-found and run apparel brand. Given their name, it's not surprising to know that most of their products are geared toward yoga. For instance, they sell leggings, shorts, and sports bras. Aside from that, they also have their own maternity line which consists of various tops and bottoms.
More About Beyond Yoga
Beyond Yoga was founded by Jodi Guber Brufsky. A yoga instructor, she found herself wanting to create an activewear line, one that instilled a positive body message. As one thing led to another, she founded the luxury athleisure brand.
Aside from their official website, their products are also available at a number of retailers such as Nordstrom, Hemm, Neiman Marcus, and Bloomingdale's, to name a few.
More About Beyond Yoga Activewear
Beyond Yoga sells a variety of activewear including leggings, shorts, sweatshirts, one-pieces, tanks, jackets, and more. What sets them apart from other brands is that they offer a wide range of sizes from XXS to 3X. Their goal is to empower people to live their best by creating clothes that flatter every body.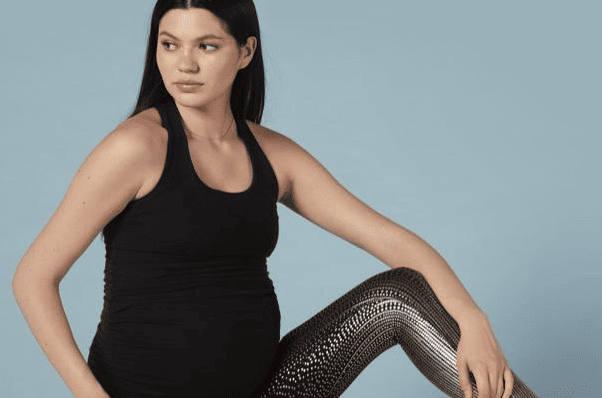 As far as price tags go, their products are listed at competitive prices. For example, their high-waisted leggings go anywhere from $86 to $97, which is comparable to many of the other activewear brands out there.
Taking Care of Beyond Yoga Activewear
Beyond Yoga prides themselves on their high-quality products. Made with high standards, their activewear will likely last you a long time. The best part of all? They're low maintenance! In other words, they're easy to wash and care for.
Why It's Important to Wash Your Activewear:
The build-up of sweat leads to the development of smells and odors
Bacteria on the fabric can irritate your skin
Dirt and germs can transfer onto other surfaces
Stains will set into the fabric
Don't want to deal with those issues? Then be sure to wash your clothes regularly! Not sure how to wash Beyond Yoga activewear? No worries, we'll be going over everything that you need to know below.
Fabrics Used by Beyond Yoga
What kinds of materials are their leggings made out of? What about their tops? Let's find out.
Spacedye Performance 
Their Spacedye Performance fabric (polyester/lycra blend) is uniquely textured and soft to the touch. Not only is it quick-drying, but it features 4-way stretch. Easy to care for, the material will maintain its shape and color throughout every wash.
Products with this fabric: leggings, shorts, tops, sweatshirts, tanks
Modal Baby Terry
Their Modal Baby Terry fabric is made from Modal yarns and Spandex. Softest of all terry fabrics, it is mid-weight and perfect for all occasions. You can wear it at home or to the gym—the choice is yours!
Products with this fabric: jumpsuits, sweggings
Cozy Fleece
Their Cozy Fleece material is exactly what it sounds like—it's soft and plush, to the point where you don't want to take it off. Super comfortable, it offers a great range of movements without sacrificing drape.
Products with this fabric: dresses, sweatpants, sweatshirts
Plush Heather
Their Plush Heather material is stretchy and soft with a heathered texture. One of their most high-performance fabrics, it features a brushed face, which is incredibly soft to the touch. Made from Nylon and Lycra, it is quick-drying and comes with 4-way stretch.
Products with this fabric: tanks
Supplex
Supplex is a luxuriously soft performance fabric. Durable with moisture-wicking properties, it provides a generous amount of stretch and recovery. What's more, is that it retains shape and color after every wash.
Products with this fabric: sports bras
Dusted Microstretch
Dusted Microstretch is a performance fabric that's enhanced with contemporary foil treatment. The result? A material that has ultra-modern shine. Not only is it stylish, but it's comfortable enough for everyday wear.
Products with this fabric: sports bras
Brushed Hacci
Brushed Hacci is a stretchy knit fabric with a subtly fuzzy feel. Texture-wise, it's almost like cashmere; however, it creates like cotton. Exceptionally soft, it features a brushed treatment that will leave you nothing short of comfortable.
Products with this fabric: cardigans
How to Wash Beyond Yoga Leggings/Yoga Pants/Tights
Wearing your Beyond Yoga leggings for the first time? Here's how to wash them afterwards.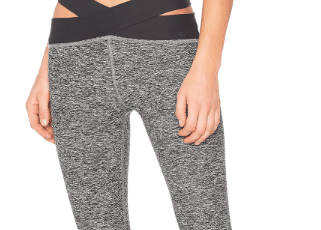 Are Beyond Yoga Leggings and Tights Machine Washable?
Yes, their yoga pants and tights are machine washable. As always, however, you want to read the care tag label first—that way, you'll have a better idea as to what you're supposed to and not supposed to do.
With leggings, you always want to start by turning them inside out. In other words, you want to expose the inner layer to the outside. As you can probably guess, this serves several purposes. First off, it prevents the dyes from fading. Second of all, it allows for easier washing (the detergent has better access to the dirt and oils). Once they're inside out, put them in a laundry bag—they will prevent your leggings from being snagged on other items.
Note: Beyond Yoga leggings can be washed with other clothes as long as they're sorted by color. Never mix opposite colors together in the same load as they can cause the dyes to bleed.
Place your laundry bag into the machine and proceed to add one scoop of ACTIVE detergent. Close the door and choose a gentle cycle; use cold water only—hot water may distort the fabric. Do not use fabric softener or bleach as they can be damaging to the material.
Wait for your washing machine to finish the cycle. Carefully take out the laundry bags when it's done. Remove the leggings and let them air dry naturally. Using the dryer is a no-no as the material is not made to withstand extreme heat.
Washing Beyond Yoga Leggings by Hand
Beyond Yoga leggings are machine washable but that doesn't mean that you have to use the washer every time they're dirty. Consider washing them by hand if you have just a couple of pairs to clean.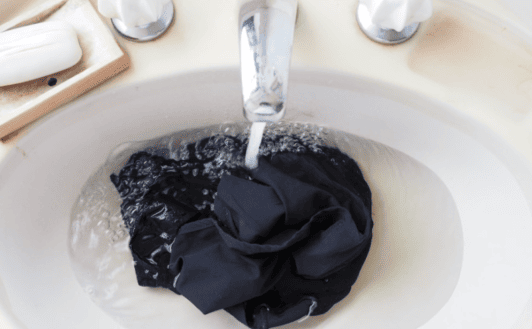 Step one—combine ACTIVE detergent with lukewarm water in the sink. Avoid hot water as they can affect the fit of your leggings. Place your bottoms in once you see bubbles. Press down on the material to fully submerge it in the solution. As a general rule of thumb, you want to turn them inside out before washing.
Let your leggings soak for about 15 to 20 minutes. From there, you can knead the fabric gently in the soapy mixture. When you're finished, rinse them with cold water to remove the soap. You can do so easily by placing the tights under the faucet—continue until the water runs clear.
Finally, you want to air dry your leggings. Never dry them in the dryer. Squeeze out the excess water with your hand from the top down and hang or lay them flat to dry.
How to Spot Clean Beyond Yoga Leggings
Accidentally spilt something on yourself? Perhaps you took a fall and there's a mud stain on your leggings? Don't worry—you can easily wash them out. Here's how.
Mix a small amount of ACTIVE detergent with warm water in a bowl. Dampen a soft bristled brush with the mixture and apply it liberally onto the stained area. The key is to saturate the entire spot—just a little won't be enough. Once you've wet the area, let it sit for 20 to 30 minutes. The detergent will penetrate deep into the fabric to loosen the stain.
Afterwards, rinse the problem area with clean water. Check to see if the spot is still there on the fabric—if it is, repeat the steps again with more detergent. Assuming that it's gone, you can wash the leggings as normal.
Washing Instructions for Beyond Yoga Sports Bras
Beyond Yoga offers a wide range of sports bras for women. Unlike regular bras, they regularly come into contact with sweat so it's a good idea to wash them frequently.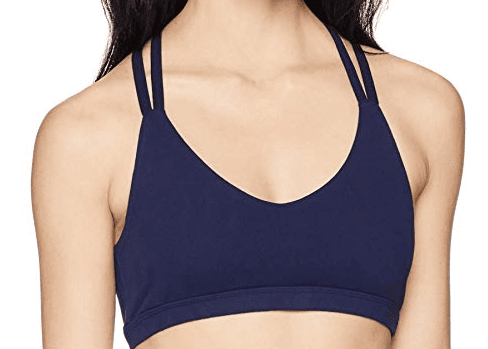 Putting Your Beyond Yoga Sports Bra in the Washer
First things first, you want to take your sports bra off right after you work out. After all, sweat can break down the fabric over time! Secure any loose ends (e.g. velcro, hook-and-eye closures) and put them in a mesh lingerie bag—that will keep them separate from your other clothes.
Note: You don't have to wash sports bras by themselves—it's perfectly fine for you to put them together with your other laundry, as long as they're similarly colored.
Set the washing machine to wash with cold water on a delicate setting. This is important—any other cycle could stretch out and damage your bras! Add in a scoopful of ACTIVE detergent, which is designed to remove sweat and body oils better than conventional detergents.
Pull the laundry bags out of the machine once the wash cycle is finished. Remove your sports bras and hang them to dry. Never tumble dry in the dryer. Do not stretch or wring them out either.
Pro-tip: Washing a molded cup sports bra? You can reshape the cups with your hands.
Hand Washing Your Beyond Yoga Sports Bra 
Want to preserve the life of your sports bras? Then consider the hand washing method! It's much more gentle than using the washer.
The first step is to fill the sink with lukewarm water. Dissolve a scoop of ACTIVE detergent and toss in your sports bras. Let them soak in the solution for 10-15 minutes.
Afterwards, swish each bra around the water with your hands. From there, rub the material gently—pay extra attention to the cups and the back band, as that's where sweat tends to collect.
When you're done, rinse the sports bra clean with water—you do not want there to be any detergent residue. Place the garment on a clean towel and roll it up to remove some of the excess water. Lay it air dry naturally.
Best Laundry Detergent for Beyond Yoga Activewear
When it comes to washing Beyond Yoga products, you want to use a detergent that's specifically made for activewear. ACTIVE detergent, anyone? Unlike conventional detergents, it's unique in that its formulation allows for it to easily get rid of dirt, oils, bacteria, and sweat from synthetic fibers. After all, it contains different types of plant-based enzymes—these proteins will physically dissolve the gunk from your clothes, leaving them fresh and clean.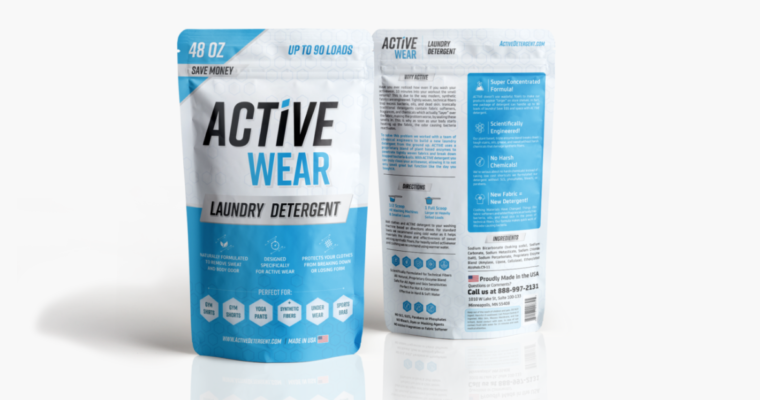 What's more, is that ACTIVE detergent is chemical-free. If you look at the list of ingredients, you'll notice that everything is all-natural. What this means is that it's better for your skin and the environment! Surely, you've heard of the problem that conventional detergents pose? How they pollute the waterways with various chemicals? Well, you won't have to worry about any of that with this product!
So, what do you think? Want to go for it? You can learn more about ACTIVE detergent on this page.
Note: This promotional offer is only guaranteed through the end of the day.