Leggings have become incredibly popular over the past several years. Some may argue that they're not "real pants" but does it really matter if they're comfortable and look great? They might have started out as a yoga essential but that's no longer the case—if anything, they've become a category on their own! Let's face it, there's nothing better than lounging around in a comfortable pair of leggings.
Why Leggings Are Awesome:
They're easy to slip on—there are no buttons or zippers to worry about
They almost always fit thanks to the stretchy material
They come in a variety of patterns and colors
They provide a free range of motion (this makes them perfect for workouts)
They're close-fitting, which means that they'll keep your legs warm
They're super versatile
But you know what would make them even more awesome? Pockets. Think about it—wouldn't it be great if there was a place to put your phone or keys? It'll allow you to go hands-free when you're going out for a run. Why wear a bag when you don't need to, right? The less that you have with you, the better!
As it is, however, leggings with pockets can be somewhat difficult to find. For whatever reason, manufacturers tend to gravitate toward the pocket-less version. Perhaps they're easier and cheaper to make? Yeah, that must be it.
Don't worry, though. These types of leggings are out there. They might cost a little more, but surely the convenience is worth it? Anyway, to help you with your search, we've put together a list of leggings—all of which come with pockets! Hopefully, this will make your shopping a little easier. You can thank us later!
Top 10 Best Leggings & Yoga Pants with Pockets – Our Favorite Picks
Here are some of our favorite leggings that come with pockets. Which one will you be going for?
1. Leggings Depot Inner Pocket Leggings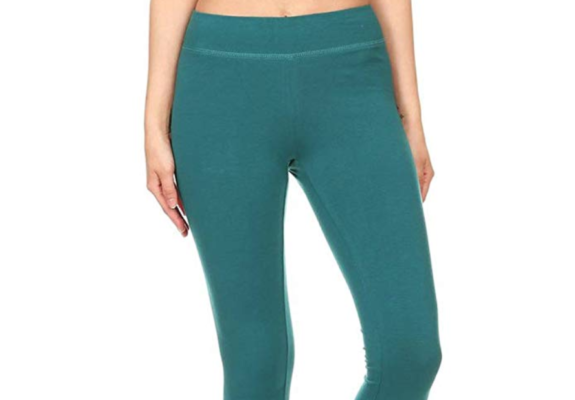 Leggings Depot offers a variety of leggings—some of which come with pockets. This style, in particular, features pockets that are hidden on the inside. In other words, no one will be able to tell what you're carrying with you!
What's great about these is that they're super soft and breathable; this is not surprising, after all, they're made mostly from cotton. To give it that "stretch", they've also added a bit of spandex, which allows for a free range of motion. Whether you're out at the gym or hanging out with friends, these leggings will keep you comfortable. Plus, they look great paired with tops or dresses!
Did we also mention that it comes in many different colors? Aside from black, there are more vibrant shades such as pink, yellow, green, red, and more.
Price Range: ~$10-13
2. New Balance High Rise Transform Pocket Tights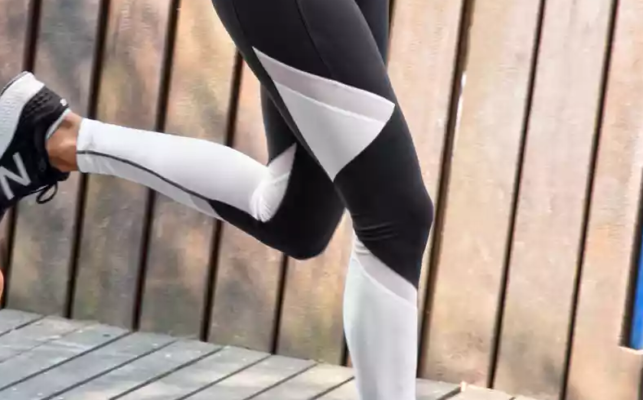 New Balance offers a type of leggings that's perfect for runs and trips to the studio. Flattering with its high-rise fit, it comes with power mesh on the back of the waistband and at the leg, which adds a considerable amount of breathability. After all, you'll probably be sweating a lot! It also features NB Dry fabric—a material that is known for its ability to wick moisture away. It also comes with a microbial coating that helps to prevent odors.
The highlight of the product, however, is the pockets on the side. You can easily use them to store small items such as cards, keys, and cash. As you can imagine, this makes things much more convenient when you're out and about!
There are three different colors to choose from—Faded Rosin, Black with White, and Black.
Price Range: ~$90
3.
The North Face Motivation High-Rise Pocket Crop Leggings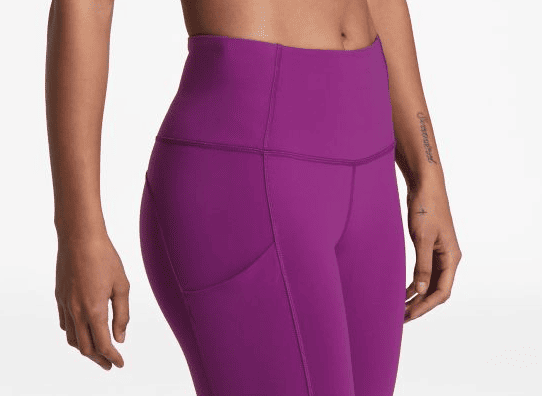 The North Face offers a style of leggings that are designed for convenience. Can you guess the main highlight? That's right—it comes with pockets. More specifically, it comes with low-profile pockets on both sides that are perfect for storing your phone or other small items!
Slimming, the fitted crops feature chafe-free seams, which allow you to move with comfort. What's great, is that it also comes with a power-mesh waistband on the inside that provides core compression. Fabric-wise, its made from FlashDry technology, which is engineered to remove moisture quickly from the speed. In other words, you will be drier and more comfortable in a range of environments. You won't have to worry about it washing out either!
There are four colors to choose from—Phlox Purple, Blue Wing Teal, TNF Dark Grey Heather, and TNF Black.
Price Range: ~$70
4.
Lululemon Align Pants with Pocket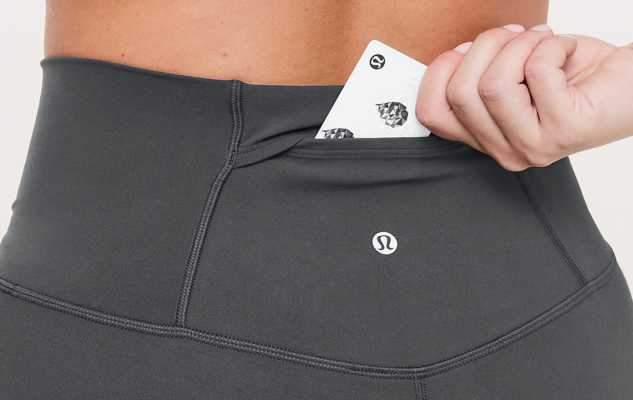 Lululemon offers a wide range of leggings, all of which are slightly different in style. These ones here—the Align Pant Pocket—is unique in that it features a pocket in the back for your small essentials. Cut from their Nulu fabric, they are both sweat-wicking and buttery-soft. In fact, they are engineered to feel like a second skin. In other words, you'll feel next to nothing with them on!
Not only is the waistband comfortable (you won't have to worry about it digging into your skin), but it is high-rise, which means that it'll keep you feeling secure. Which color do you prefer? Deep Coal or Black? Both will go great with your outfits whether you're heading to class or the yoga studio!
Price Range: ~$79-98
5. Feivo Power Flex Tummy Control Leggings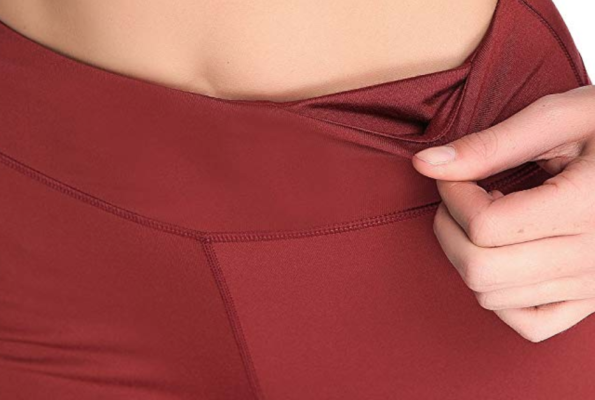 Feivo is a relatively new brand that sells on Amazon. One of the greatest things about them is that their products are cheap. To give you a better idea, most of their leggings go for under $15! Of course, that also includes free two-day shipping for Prime members.
Among their products, these ones are the most popular. Not only are they stylish with see-through fabric on the bottom, but they come with a hidden pocket on the inside of the waistband, which is perfect for stashing away your keys! Speaking of the waistband, it features a high-rise fit, which provides tummy control. At the same time, it will streamline your shape and contour your curves!
That's not all; the leggings also come with interlock seams, which reduce chafing and eliminate irritation. This makes them great for everyday wear! What's more, is that there are more than two dozen colors to choose from—from black to red!
Price Range: ~$11-$17
6. Nux Essentials Crop Yoga Pants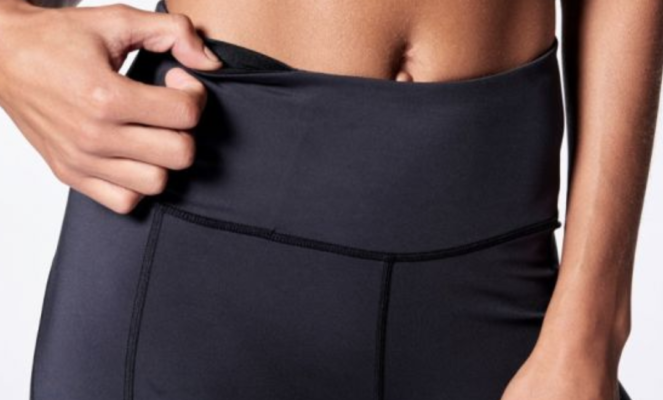 Nux specializes in seamless activewear that is meant to be worn at the gym and on the go. When it comes to leggings, these ones are at the top of the list! Made from polyester and spandex, these essential crops feature contoured panel lines and flatlock details, which make them stand out wherever you go. They come with a hidden pocket on the inside as well—that way, you can stash your belongings!
Like most tights, these ones offer moderate compression, which is generally enough for most workouts. The waistband is also high enough to keep the pants in place during exercise. Did we also mention that they have a buttery soft feel?
Price Range: ~$50-70
7.
Athleta Salutation 7/8 Tight in Powervita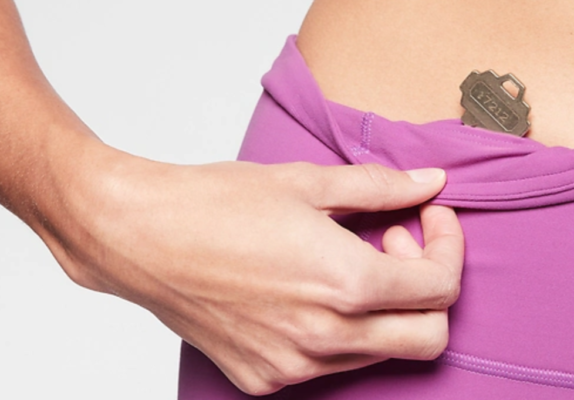 These tights are created for both indoor and outdoor yoga practice. That's not to say that you can't wear them outside of the studio—you absolutely can! For one thing, it's made from Powervita fabric, which is incredibly soft, to the point where it feels like a gentle hug. In contrast, the crotch gusset is cut from their CoolMax material, which offers maximum breathability.
On top of that, the waistband is made from three separate layers; it also comes with a mesh inner lining which streamlines your body. What else is there? Why, a hidden pocket of course! Where else would you stash your keys? Oh right, the leggings also feature flatlock seams so that you won't have to worry about chafing.
A total of five colors are available—High Teal, Dark Violet Brush, Navy, Black Heather 2, and Black. Do note, that some of them are online exclusives. You can also choose from different cuttings including regular, tall, petite, and plus.
Price Range: ~$40-90
8.
Imido Running Mesh Leggings with Side Pocket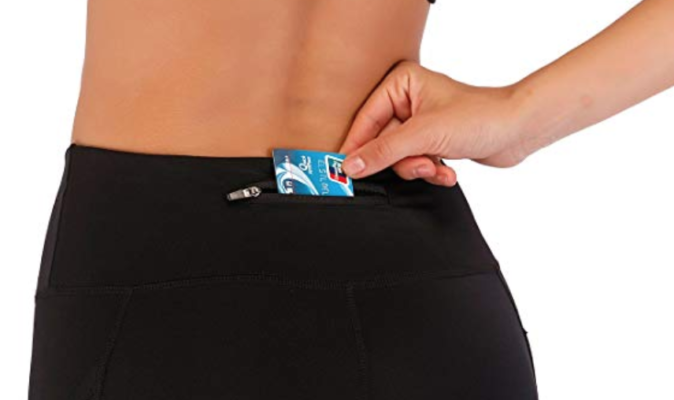 Imido is another brand that sells on Amazon. Their selling point? Their price point. While it depends on the style, some of their leggings go for $8.99, which is a steal! As far as their most popular item goes, it might just be this—their Running Mesh Leggings.
Made from a blend of polyester and spandex, the leggings are comfortable, tight-fitting, breathable, and moisture-wicking. In other words, they're perfect for everyday wear and workouts! As you might be able to guess, it also comes with side pockets for convenience. Not just that, but there's a hidden waistband pocket as well. You can easily store your gym pass, keys, or cash with ease!
Design-wise, the tights feature a mesh slice, which is not only stylish, but keeps you cool and comfortable. You won't have to worry about the fabric being see-through, either.
There are various colors to choose from including black, black and grey, black and pink, black and blue, and more.
Price Range: ~$9-18
9.
Puma Luxe Mesh Tights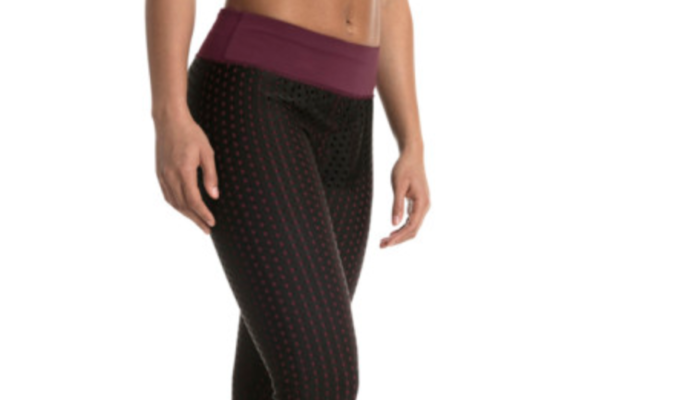 Puma's Luxe Mesh Tights are both chic and stylish. For one thing, it comes with a supportive power mesh waistband that will keep them tight and secure during your workout. It also features flatlock stitching, which minimizes friction and increases ventilation—that way, you'll be able to reach your peak performance!
Other details include a cotton-lined gusset for maximum breathability and on-seam zips at cuffs with mesh panels for maximum ventilation. At the back, there is also a hidden pocket, which allows for secure storage of your belongings.
As with most of their leggings, these ones features dryCELL technology—their soft, moisture-wicking fabric that will keep you dry and comfortable at all times. It's worth mentioning, though, that different parts of the tights are made from different materials. For instance, the inner waistband is cut from elastane and nylon whereas the shell contains polyester.
Price Range: ~$65-80
10.
Nike Running Tights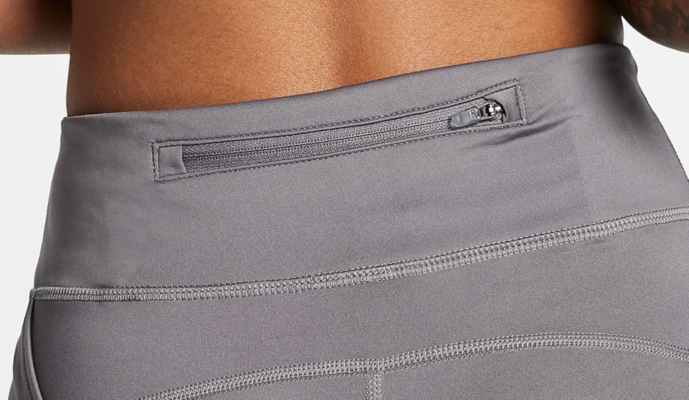 Nike offers a variety of running tights, all of which feature multiple pockets for convenient storage. Not only is there a hidden pocket on the inner waistband, but there's a zippered pocket at the back—that way, you won't have to worry about your essentials falling out!
Stretchy and supportive, the leggings come with breathable mesh panels that allow you to stay cool and comfortable during your gym workout. One thing that sets them apart from other tights, is the fact that there is an internal drawcord, which you can use to adjust your fit.
There are two colors to choose from on their site—grey and black.
Price Range: ~$60
Note: This promotional offer is only guaranteed through the end of the day.