Yoga is not exactly a form of exercise—in a traditional sense, anyway. What is it? It's a group of mental, spiritual, and physical practices that originated in India. Depending on the style, it may revolve around meditation, physical postures, relaxation, or breathing techniques.
There's no doubt that it comes with many health benefits. For one thing, it's a great way to improve your flexibility. After all, it involves putting your body in various positions. Not only that, but it will help to build muscle strength, increase blood flow, perfect your posture, and more. Performed regularly, it can also lower blood pressure, which will decrease your risk of various conditions.
How Many Yogis Do You Know?
Chances are, you probably know at least one yoga enthusiast. Remember, the practice is not just for women—there are plenty of men who attend yoga sessions regularly! Perhaps your sister-in-law is a yogi? Or maybe your friend from high school has become a yoga instructor?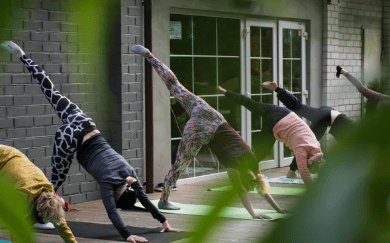 Why's that important? You see, it makes things a lot easier when it comes time to picking out a gift! Instead of scratching your head as to what to get, you can just buy them something that they can use at the studio—something practical.
What kind of yoga-related products should you get? Need some ideas? Then you've stumbled on the right place! For your convenience, we've put together a list of items that your yogi friend might like. Want to know what they are? Then you'll want to scroll down!
8 Best Gift Ideas for Yoga Enthusiasts in 2023 – Top Recommendations
How about giving your friend one of these products? They all have one thing in common—that's right, they're all yoga-related! Surely, they don't already have all of these things?
1. Manduka Pro Yoga Mat
Every yogi needs a yoga mat. If anything, it's the most important thing that you need for your sessions. For one thing, it prevents you from slipping—as you can imagine, that's quite a possibility when you're sweating. Second of all, it serves as your sense of space—it allows you to freely perform all the movements necessary.
Manduka offers a variety of yoga mats that would make great gifts. How are they different from the other ones on the market? They're luxuriously dense. Featuring unmatched cushioning and comfort, they will never wear out. Plus, it comes in two different sizes! Which one would your friend prefer? The standard or the extra long? Either way, there are plenty of colors to choose from!
Price Range: ~$120
2. Anchor Hocking Glass Water Bottle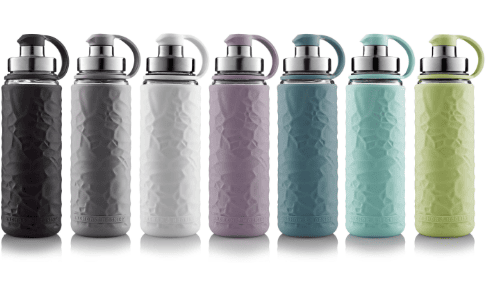 It's important to stay hydrated when you're at the studio—this is especially true if you're doing hot yoga! After all, you'll probably be sweating a lot. Considering this, it only makes sense to bring water with you. Sure, there are always water fountains but they might not be the most hygienic.
Why not give your friend a durable water bottle? Anchor Hocking makes a spectacular product that is constructed from tempered glass. Made in the USA, it comes with a silicone gasket and a stainless steel lid. With its tethered stopper, you won't have to worry about it leaking! Want to bring something cold with you to the studio? No problem! Its wide mouth allows you to easily add ice cubes without effort. There won't be any funny taste whatsoever.
There are several colors to choose from including black, white, green, blue, purple, and yellow. Which do you think will match your friend?
Price Range: ~$15 to $20
3. Active Detergent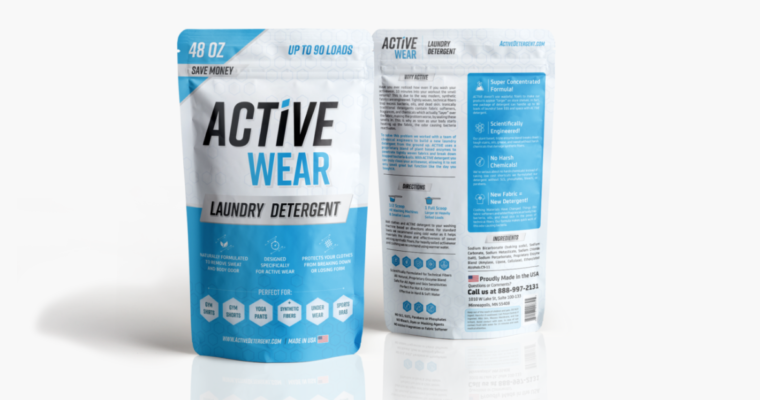 Yoga might not seem like a high-intensity workout, but it can still cause you to sweat—especially if you're doing hot yoga! What does that mean? Your yoga gear is going to come into contact with sweat. In other words, they'll get smelly over time.
Who wants to deal with odors at the yoga studio? Nobody! Want a product that can help? Consider Active Detergent. Trust me, your friend will love this practical gift. One scoop of the powder and their yoga clothes will be as good as new! The best part is that one bag will last a long time!
4. Natural Organic Yoga Mat Cleaner
Yoga mats can get quite icky—especially if you use them on a regular basis! For one thing, they go on the floor. Who knows what's been on it? Don't forget, they come into contact with your sweat too! For hygienic purposes, it's recommended that you clean it every once in a while. At the very least, you should wipe it down with a cloth after a few sessions.
But wait, what kind of cleaner should you use? Consider Asutra's Yoga Mat Detox solution! Derived from eucalyptus essential oil, the product is 100% organic and natural—there are no chemicals whatsoever. Created by yoga enthusiasts for yoga enthusiasts, the cleaner will effectively remove sweat, dirt, dirt, and other gunk from your mat. Did we also mention that it'll kill bacteria, viruses, fungi, and mold? You won't have to worry about it leaving any slippery residue either!
Free of artificial colors, alcohol fragrances, detergents, and paragons, it is ideal for those with sensitive skin. Made in the USA.
Price Range: ~$10
5. UpCircleSeven Yoga Wheel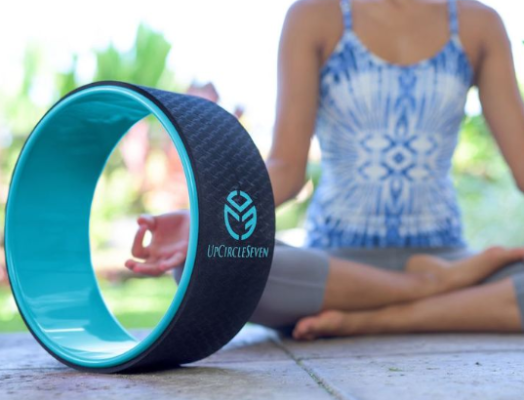 Yoga wheels are great for those who want to do a bit of stretching. Circular-shaped props, they allow you to release tension in hard to reach areas. In doing so, it will also improve your flexibility. They're easy to use too—all you have to do is lay or roll on it. You'd be surprised just how much better you'll feel afterward!
UpCircleSeven makes a fantastic yoga wheel that's perfect for yogis and athletes. The strongest wheel on the market, it can withstand up to 550 pounds! In other words, you'll have no issue performing all of your movements. Not only is it sweat-resistant, which prevents it from retaining icky scents, but it also comes with a remarkable amount of padding—it'll cushion your feet, back, and palms for utmost comfort. The yoga wheel even comes with a free e-book! As if that isn't enough, UpCircleSeven also offers a 100% quality promise. In the rare case that your friend isn't a fan of the product, they can return it for a full refund!
There are multiple colors to choose from including cyan, black, cork, light blue, pink, and purple.
Price Range: ~$35 to $40
6. Goddess Provisions Subscription Box
Who doesn't like subscription boxes? They're the type of gift that just keeps on giving! Let's face it—there's nothing better than receiving a box of goodies in the mail! Nowadays, there's pretty much a subscription box for everything—candies, pet toys, you name it. Of course, yoga-related goods are not an exception!
Ever heard of Goddess Provisions? It's a monthly month that will "light up your soul."
What does it include? A variety of yogi-approved items! You know, things like superfood snacks, aromatherapy products, crystals, spiritual growth tools, tea, and more. The best part is that everything comes from small businesses! They're also vegan and cruelty-free.
There are various subscription plans that you can choose from—for instance, you can go for a 3-month prepay or a 6-month repay. Either way, you only need to make one payment! Not sure whether or not your friend will like it? You can always go for the one-month plan!
Price Range: ~$33 to $333
7. Gaiam Grippy Toeless Yoga Socks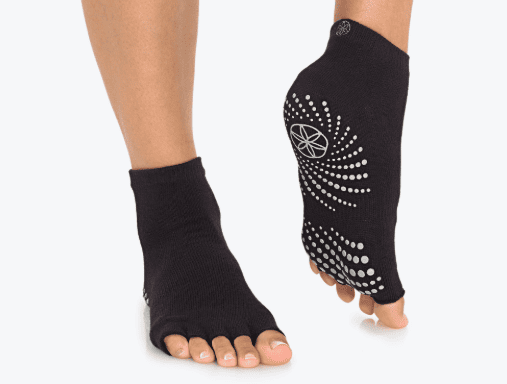 Ever heard of yoga socks? They're pretty much regular socks but with grippy dots on the bottom. Some have toes whereas others are toeless. Why do you want them? So that you won't be sliding around on your mat! After all, you can still slip on "non-slip" mats! Not only that, but they'll protect you against germs (remember, gym floors aren't the cleanest!). As an added bonus, they'll also keep your feet warm during the winter.
When it comes to yoga socks, you want to get ones from Gaiam. They come with targeted traction zones that offer no-slip grip on virtually any surface—you can use them on the bare floor or on your yoga mat! On top of that, they feature an open design which allows for better balance and tactile feel. Made from polyester, spandex, and rubber, the socks can be tossed into the washing machine for easy cleaning (just avoid bleach). One size fits all and there are multiple designs and colors to choose from! They're also affordable and budget friendly.
Price Range: ~$20 a pair
8. Great Gear Infuser Water Bottle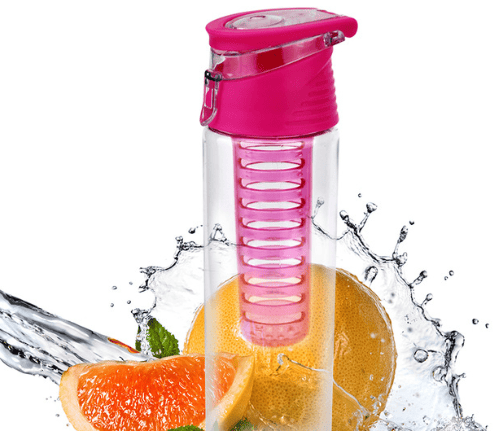 Remember what we said earlier? Hydration is important when it comes to yoga. But what if you're not a fan of plain water? There's a great alternative—fruit infused water. It's exactly what it sounds like—it's fruit flavored water. You can also use herbs or vegetables. How do you go about making these delicious drinks? With an infuser water bottle.
This one here, the Great Gear Infuser Water Bottle, is both affordable and durable. Featuring a leak-proof design, it comes with a locking flip-top and a locking ring. Easy to use, all you have to do is slice up your ingredients—whether it's a fruit or a vegetable—and put them in the infusion basket. Give it a gentle shake, wait a few minutes, and you've yourself a tasty and healthy drink! Want some more flavor? You can always add more fruit to the outside of the infuser basket.
Made from food-grade co-polyester, the infuser water bottle will not release or absorb flavors in your water. Making delicious drinks has never been easier!  It even comes with a limited lifetime warranty that includes accidental damage to the bottle! Accidentally cracked it by dropping it on the floor? No problem—Great Gear will be happy to replace the product for you.
There are a few colors to choose from too including turquoise, blue, pink, purple, and yellow.
Note: This promotional offer is only guaranteed through the end of the day.