Gymnastics can do wonders for your health. Not only will it burn calories, but it'll also strengthen your muscles and bones. On top of that, it can help you become more flexible. This, in return, makes you more resistant to injuries and back pain. It can also provide a great foundation for other sports such as baseball, football, and basketball, all of which require strength, balance, flexibility, and agility. 
In addition to physical benefits, it comes with mental benefits as well. For one thing, it can help an individual develop a sense of discipline—this is especially true for children. Aside from that, it can increase their social skills and self-confidence. As if that wasn't enough, it can also improve their cognitive functioning. 
Plus, it's fun! In fact, it's one of the most popular Olympic sports. 
The Popularity of Gymnastics 
Gymnastics has been practiced since the fifth century. Fast forward to the current year, and it's only become more popular. In the U.S. alone, there are over 5 million gymnastics above the age of six. 
In other words, you probably know someone who does gymnastics. Remember, it's not just for kids—adults can do it too! In fact, there are more and more classes that cater toward adults in their 20's and 30's. 
Need some gift ideas for that gymnast friend of yours but drawing a blank? We've got you covered! We've put together a list of some of the best gifts that you can give them below. Make sure to read the rest of the post if you're interested!
7 Best Gift Ideas for Gymnasts in 2023 – Top Recommendations
Here are a few gift ideas for that gymnast in your life! Which one will suit them best? You decide. After all, you're the one who knows your giftee best. 
1. Gymnastics Metal Holder Wall Mount – $31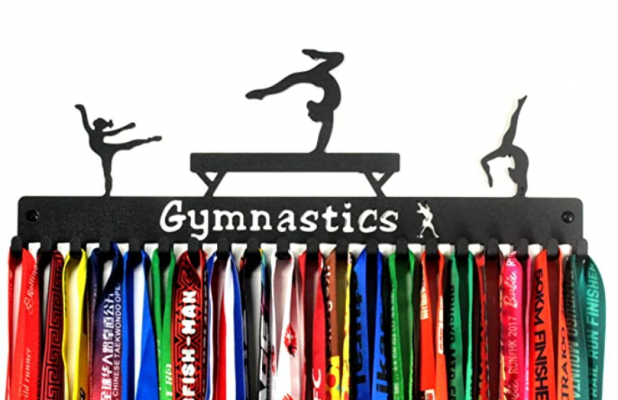 Are you getting something for a competitive gymnast? If so, why not get them a medal holder? That way, they'll have a place to put all of their medals. Not only will it allow them to declutter a bit (medals can take up room, especially if they've got several), but it'll also allow them to show off their accomplishments!
In terms of which one to get, we like this wall mount as it's literally gymnastics-themed. As you can see in the photo, it has the word "gymnastics" written on it at the top. Not only that, but there are cutouts of several gymnasts at the top. Made of high-quality medal, you won't have to worry about it coming apart. In total, there are 20 hooks at the bottom for your medals. It's easy to install too—it comes with all the hardware that you need as well as the instructions.
For those who want something a little more personalized, you can always get something custom made on Etsy. They might cost a bit more but the customization will make the gift extra special. 
2. ACTIVE Detergent – $24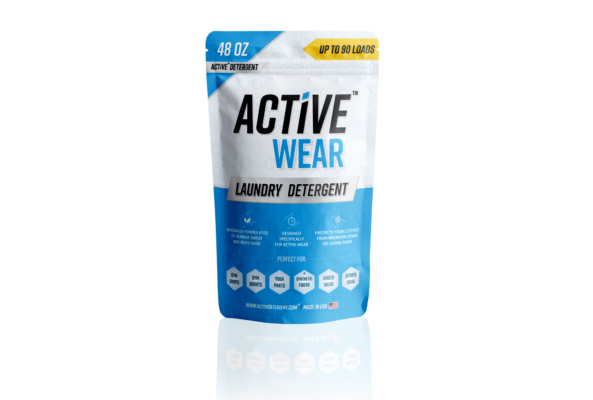 Gymnastics can be quite strenuous, especially if you're on the competitive level. With all the jumping and flipping that you'll be doing, there's a high chance that you're going to work up a sweat—and it's going to get on your leotard. In other words, it's going to develop a stink if you don't wash it right away. 
That's why ACTIVE detergent is on this list. It's one of the best if not the best product to use for your leotards. Unlike other detergents, it's formulated with activewear in mind. That is, its ingredients are specifically for synthetic fabrics such as polyester, nylon, and spandex. Let's face it, the last thing that you want is to ruin your leotard by washing it with the wrong product. After all, those things can be quite expensive!
The great thing about this particular detergent is that it's also plant-based aka all-natural. You won't have to worry about exposing yourself or the environment to potentially dangerous chemicals. As an extra bonus, it's also gentle on the skin! As you can see from the image, one bag comes with 48 oz of powder. It's also worth mentioning that it's made in the U.S!
3. Hydro Flask – Around $30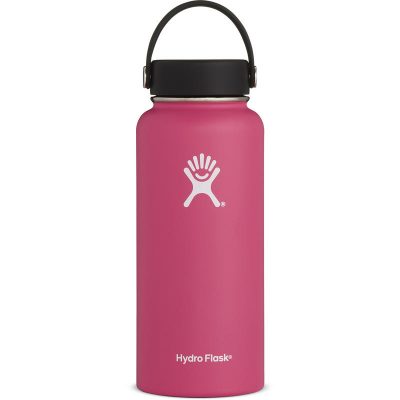 Staying hydrated is important, especially for gymnastics given how physically demanding it can be. Ideally, you want to drink water before, during, and after your session—and to do that, you have to have a water bottle. Some gyms might have vending machines where you can buy bottled water but they're not the best for the environment. Not to mention that the costs can add up!
That's why you should have a reusable water bottle instead—one that you can use and wash between your training sessions. We recommend the Hydro Flask as it's one of the best water bottles that you can get in terms of quality. Featuring a stainless steel construction, it comes with vacuum-insulated technology that allows your water to stay cold for up to 24 hours. For those who prefer hot water, it can also keep it hot for up to 6 hours.
With its powder coating, it won't sweat either. When it comes time to clean the bottle, just put it in the dishwasher and you're good to go. Did we also mention that it comes with a lifetime warranty against manufacturing defects?
There are more than a dozen colors to choose from so surely you'll be able to find the right one for your giftee. In fact, there are different styles too. For example, you can get one with a sports cap or a flex cap. It might just differ a little in terms of price. 
4. Gymnastics Hand Grips – $15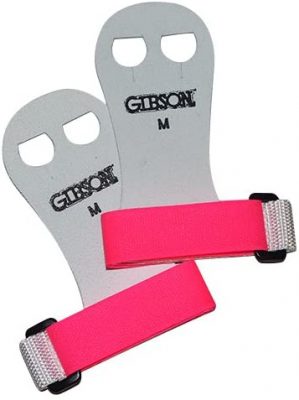 Hand grips are a must-have if you're a gymnast. Not only do they provide better grip but they'll also prevent your hands from blistering. On top of that, they'll protect them from rips—friction injuries where the outer layer of the skin literally tears away.
For competitive or even casual gymnasts, we highly recommend the ones by Gibson. Made in the USA, they're made to minimize rips, blisters, calluses, and tears on your hands. The finger holes are also sized small so that they can be widened for a customized fit (it's recommended that you do it with sandpaper). Made from soft leather with neon-colorer hooks and loops, they're both practical and stylish.
In total, there are four different colors to choose from—black, violet, pink, and blue. If anything, the most important thing is the size. After all, it wouldn't do anyone any good to get one too big or too small! Considering that, you might want to ask your giftee about their hand size. From there, you can get the one that best suits them (small, medium large, extra-large).
5. Canway Gym Bag – $38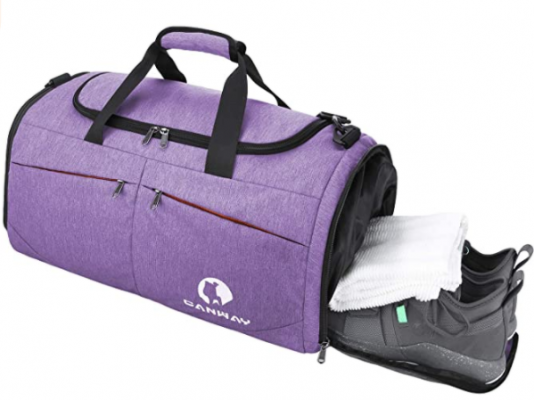 It doesn't matter whether you're new to the sport or a veteran on the mat—you'll need a gym bag regardless. After all, there's a fair bit of stuff that you have to bring with you to the gym! For example, you'll need to bring your leotard, grips, hair accessories, snacks, water bottle, and a change of clothes. 
Ideally, you want a gym bag that allows you to organize things in different compartments. That way, you can easily get what you're looking for when you need it. For those who aren't sure which to get, we recommend that ones by Canway. Available in multiple colors, they come with multiple pockets including a shoe compartment for your sneakers! There are also side megs pockets for your energy drink and water bottle.
Made of durable, polyester fabric, it's both tear-resistant and waterproof. The zippers are also made to last, as are the stitched grip handles and removable shoulder straps. What's more, is that there's a built-in side hook and key ring. Feel free to use those however you'd like! For everything that it offers, its price is quite affordable as well at under $40.
6. Home Balance Beam – Around $50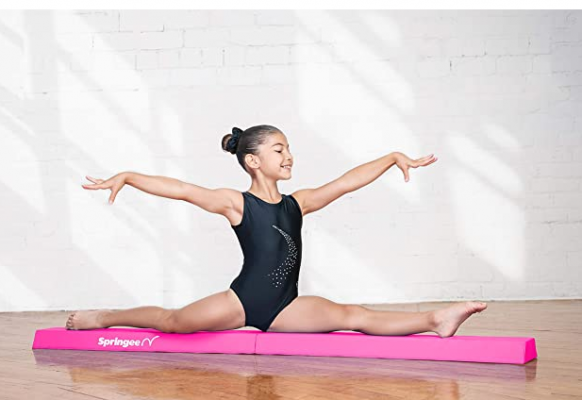 One thing about gymnastics is that it's hard to practice at home when you don't have the proper equipment. Take the balance beam, for example, it's not exactly something that most of us keep in the living room. Given that, it's not surprising to know that many gymnasts choose to invest in a low beam or floor beam for home use.
Thinking of getting one for your giftee? Consider the 6ft balance beam by Springee. Available in two colors, it's firm enough so that you won't feel it flex even if you're using it constantly (it supports gymnasts up to 160 pounds). Covered with non-slip gripper dots, you won't have to worry about slipping on the beam either. You can use it on almost any surface including hardwood, gym mats, carpet, or tile. 4 inches wide, it's built with an extra foam core and covered with easy-to-clean vinyl.
It's convenient to use as well with its fold-out design. That is, you can easily set it up in less than 30 seconds…and when you're done, you can store it away with ease. It won't take up much room at all. Or if you want, you can always use it outside as well!
Note: This promotional offer is only guaranteed through the end of the day.