Abercrombie & Fitch is a lifestyle retailer that specializes in casual wear. With that said, they also offer other products such as footwear, accessories, and personal care items. Unlike Hollister, which is their sister brand, their target audience is a little older (ages 21 and up).
More About Abercrombie & Fitch
The company was founded by Ezra Fitch and David T. Abercrombie in 1892. Interestingly enough, however, they weren't always an apparel brand. For many years, they sold sporting and excursion goods such as fishing boats, rods, and shotguns. It wasn't until many years later that they shifted their focus over to clothing.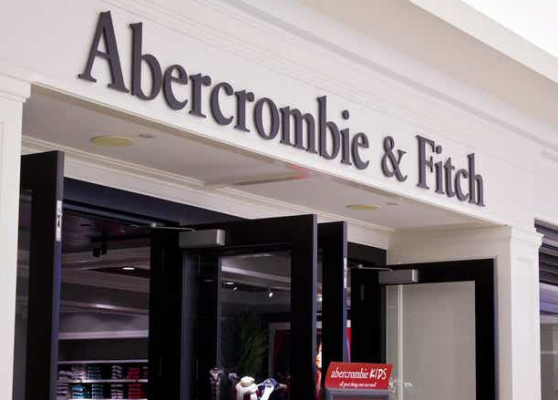 Headquartered in New Albany, Ohio, Abercrombie & Fitch currently operates over 850 locations worldwide, 278 of which are in the United States. In addition to that, there are five full-line stores in Canada.
What Kind of Activewear Do They Offer?
Abercrombie & Fitch is mostly known for their casual wear, however, they do sell activewear as well. For example, they sell sweatpants, leggings, shorts, and hoodies. On top of that, they also offer swimwear for both men and women.
Their products are generally a bit more expensive than other clothing stores. However, it is possible to get good deals from their sales rack; they also promotions every now and then where they take a certain percentage off certain items. Shipping is also free if your order is more than $75.
Taking Care of Your Abercrombie & Fitch Activewear
With Abercrombie, you get what you pay for. That is, the quality is noticeably higher than certain fast-fashion brands. That's not to say that they'll last forever, though. After all, clothes do have a lifespan. However, there are steps that you can take that'll make them last longer.
Here's a tip—wash your workout clothes as soon as you get home. The quicker you get them into the washer, the better; it means that the sweat on the fabric won't have a chance to cause problems. Remember, though, there is a right and wrong way to do your laundry. Need some guidance? Well, that's why we're here! We'll be going over how to wash Abercrombie & Fitch activewear below. Keep reading to learn more!
Fabrics That Are Used For Abercrombie Activewear
Knowing what your activewear is made of will make it easier to wash. After all, not all materials have the same properties! Here are a few that Abercrombie uses for their clothing: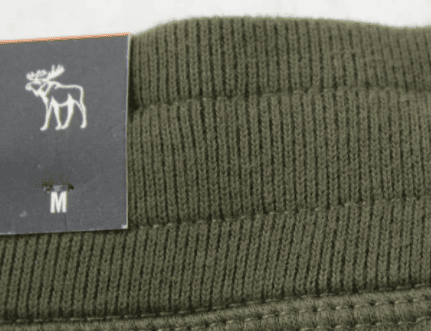 Polyester
Polyester is pretty much the opposite of cotton in that it's derived from synthetic materials. Despite that, it is a soft fabric. At the same time, it's also strong. If anything, that's why it's the fabric-of-choice for activewear. It even has the ability to keep you dry by pulling sweat away from your skin.
Abercrombie & Fitch uses polyester for their leggings, sweatpants, swimsuits
Nylon
Nylon is a type of polyamide fabric. As with polyester, it's entirely synthetic. Highly versatile, it can be used for a number of things from bags to clothing. Not only that, but it has good wear resistance and can handle high temperatures. It also doesn't absorb water that well, which is one of the reasons why it's often used for swimwear.
Abercrombie & Fitch uses nylon for their swimsuits
Elastane
Elastane is a unique material in that it has exceptional elasticity. In fact, its other name, spandex, is an anagram of the word "expands." Given that, it's not surprising to know that it's a popular choice for close-fitting garments. That is, it provides stretch so that you can move freely, something that's necessary when you're working out.
Abercrombie & Fitch uses elastane for their sweatpants, leggings, joggers, swimsuits
Polyurethane
Polyurethane is a versatile plastic material that's used for a variety of things, including clothing. An artificial rubber, it's tear-resistant and has excellent wear properties. On top of that, it's able to resist impact due to its flexibility.
Abercrombie & Fitch uses polyurethane for their bras and swimsuits.
How to Wash Abercrombie Joggers and Sweatpants
Their joggers and sweatpants can either be machine-washed or hand washed. Here's how.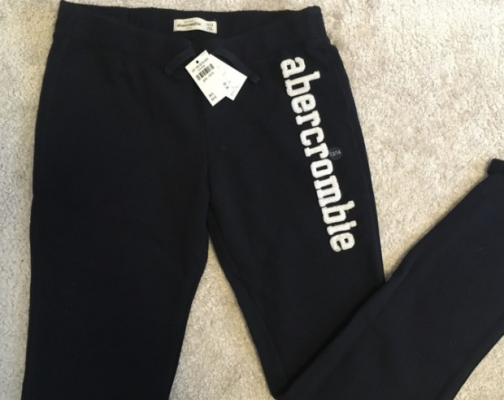 Option 1: Using the Washing Machine For Your Abercrombie Joggers and Sweatpants
As with all clothing, you want to start by emptying out the pockets; there should be nothing left in your joggers/sweatpants. The next step is to flip the fabric inside out. Once that's done, stuff the item in a mesh garment bag. Basically, it'll prevent your pants from rubbing against your other laundry, which can damage the material. We recommend using a pillowcase if you don't have a garment bag.
From there, place the bag inside the washer; the same goes for the rest of your laundry. (ideally, you want to wash activewear with activewear). As far as detergent is concerned, we recommend one scoop of ACTIVE detergent for a standard-sized load. You can use a little more if you're washing several items at once but try not to overdo it. As for bleach and fabric softeners, you want to skip those.
The next step is important—you want to set the dial to a gentle cycle. Hot water should be avoided; cold water is a much better option if you want your joggers and sweatpants to last.
When the washing is complete, hang the item up; let it air dry. As a general rule, you should never put leggings or joggers in the clothes dryer.
Option 2: Washing Your Abercrombie Joggers and Sweatpants In a Sink
For this method, all you need water, detergent, and a sink or washbasin. Start by filling it the basin with tepid water. Add in 1/2 scoop of ACTIVE detergent and mix to create a bath for your joggers and sweatpants. Make sure there is nothing in the pockets before flipping the bottoms inside out and placing them in the solution. It's important that they're fully submerged so press down of them with your hands if you need to.
Leave your joggers/sweatpants in the basin for at least 20 minutes so that they can soak in the sudsy mixture. Once that's done, turn on the faucet so that you can rinse off the soap. It may be a good idea to drain the sink and fill lit up with clean water as well. Gently massage the fabric with your hand to work out the detergent; you don't want there to be any soap suds leftover.
After washing, place them somewhere well-ventilated to air dry. Do not use the dryer; the direct heat can damage the fabric.
Washing Instructions for Abercrombie & Fitch Swimwear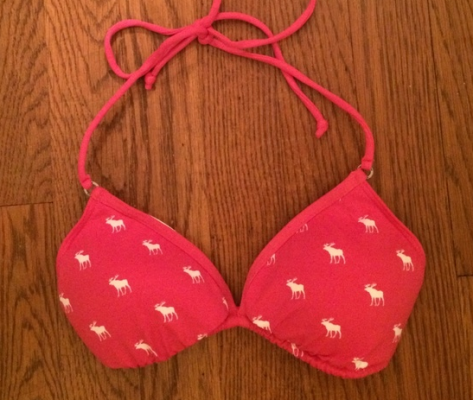 Their bikinis and swim shorts can pretty much be washed in the same way.
The Importance of Rinsing Your Swimwear
When it comes to swimwear, and this goes for both bikinis and swim shorts, you want to rinse them with water as soon as you get out of the pool. That way, you won't have to worry about the fabric being damaged by chlorine, salt, or body oils.
For example, you can rinse the bathing suit by taking a quick shower afterward. Alternatively, you can take it off and soak it in cool water The longer you can soak it, the better. Remember, swimsuits are delicate; you want to do whatever you can to protect them from damage.
Once they've been rinsed, you can proceed to wash them.
Washing Your Abercrombie Bikinis or Swim Shorts 
Once you've soaked the bathing suit, drain and refill the sink. Add half a scoop of ACTIVE detergent and agitate the water to create a bath. The next thing that you want to do is turn the garment inside out. From there, submerge it in the solution. Swish it with your hands for a few minutes before letting it soak again.
Rinse well afterward; there shouldn't be any soap suds left on the fabric afterward. This can take a couple of minutes. When you're done, remove the swimsuit from the water and gently press out the water. Never wring the material as that can damage the shape of the garment. To dry it, lay it flat on a clean surface out of direct sunlight; the sun's UV rays can break down and cause the fibers to fade over time.
Tip: If necessary, you can add a bit of distilled white vinegar to the detergent solution—it'll help deodorize the fabric.
Can You Put Abercrombie Swimwear in the Washing Machine?
No, it's not recommended that you throw their swimsuits/swim shorts in the washing machine. If anything, this goes for all swimwear. The agitation that goes on during a wash cycle can easily damage the garment. For example, the elastic fibers can stretch out, which will ruin its fit. Not to mention that the suit can snag on your other items. Given that, you always want to wash it by hand. The environment is much gentler so you won't be ruining your swimsuit.
The Best Laundry Detergent For Abercrombie Activewear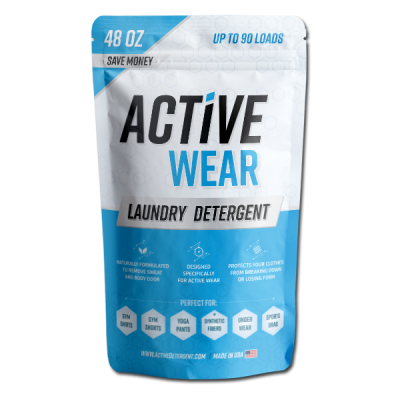 We recommend ACTIVE detergent for one reason—it's specifically made for activewear, such as the ones sold by Abercrombie & Fitch. That is, its formula contains special ingredients aka enzymes that allow it to dissolve and remove sweat, oils, and other impurities from the synthetic fibers. What's more, is that everything used is plant-based. In other words, it's not a cocktail of chemicals; you won't be exposing yourself to harmful substances when you're using it for your laundry. For example, it does not contain any sulfates. Similarly, it's fragrance-free (fragrances are actually a common cause of skin reactions). Plus, it's also better for the planet. That is, you won't be introducing anything harmful to the environment.
Aside from general washing, you can also use ACTIVE detergent for stain removals and spot treatments. All you have to do is dissolve the powder in water and you'll have something to work with.
Note: This promotional offer is only guaranteed through the end of the day.