Ododos is a relatively new brand of activewear. Given that, it's not too surprising that they only sell two types of items (so far, anyway)—leggings and yoga shorts, though both are available in a variety of colors and styles. At this time, their products are only available for purchase on Amazon. As far as we can tell, they do not have their own website.
More About Ododos
Unfortunately, not much is known about Ododos. As it is not, there isn't much information about the company online. In fact, the only search result that comes up their Amazon store. For now, it's hard to tell whether or not they plan on expanding to other retailers in the future.
Reputation-wise, though, they are doing well on Amazon. For instance, their high-waisted yoga leggings have an average four-star rating from over 1,100 reviews. Likewise, the rest of their products (cropped leggings, boot cut pants, shorts) all have more than 800 positive reviews on the site.
It's probably also worth mentioning that they stand behind their product with a 100% money-back guarantee. If it doesn't work out for you, simply return them within 30 days and they'll be happy to give you a full refund.
A Closer Look at Ododos Leggings and Yoga Shorts
Ododos sells a variety of leggings for women. Aside from their high-waisted version, which happens to be their most popular product, they also sell capris and boot cut styles, most of which come with pockets. Did we also mention that they sell plus sizes as well?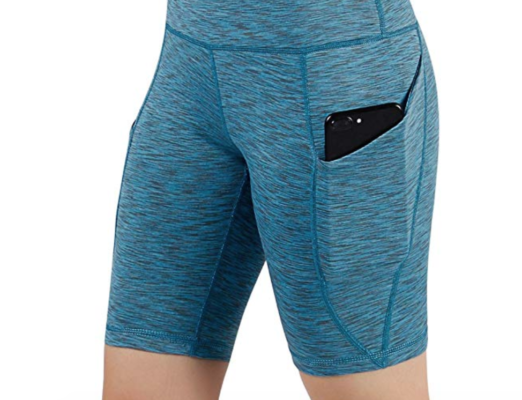 Aside from leggings, they also sell yoga shorts, which are just as popular on the site. What's great about them is that that they come in over a dozen different colors—coordinating your tops with your bottoms has never been easier!
Cost-wise, their products are very affordable. To give you a better idea, many of their leggings and yoga shorts go for under $10. Where else would you be able to find decent activewear for a price like that? Assuming that you're a Prime member, you can also take advantage of Amazon's speedy two-day shipping. 
Taking Care of Ododos Leggings and Yoga Shorts 
Want to maximize the life of your Ododos leggings or yoga shorts? If so, pay extra attention to how you wash them. Take, for instance, the laundry detergent—you want to make sure that you're using an appropriate formula for the fabric (more on this later).
For those who are curious, yes—you can wash the leggings and shorts with other clothes. Generally speaking, though, it's a better idea to wash activewear with other activewear as they are made from the same type of fabrics.
Speaking of fabrics, let's take a look at what they use for their products. Ultimately, that is what dictates how you should wash the garments!
Fabrics Used by Ododos
Ododos mainly uses nylon, polyester, and spandex in their clothing. We've highlighted some of their main properties below.
Nylon
Nylon is an engineered material that is known for its exceptional strength. Not only is it lightweight, but it is also smooth and flexible—these properties that make it well-suited for activewear. More often than not, it is blended with other synthetic fibers in clothing.
Polyester
Polyester is widely used for clothing—especially for activewear. Strong and durable, it will not wear down as quickly as other fibers. The fact that it is synthetic also means that it doesn't wrinkle easily; it is also resistant to dyes and stains.
Spandex
Spandex is one of the stretchiest fabrics out there. Nowadays, it is often incorporated with other fibers such as cotton or polyester. Lightweight and breathable, it also allows a garment to easily retain its shape. Naturally, it also resists perspiration.
How to Wash Ododos Leggings and Yoga Pants
Ododos sells a variety of leggings and yoga pants, as mentioned earlier. Given how they're close-fitting, it's a good idea to wash them on a regular basis to prevent the development of odor. Don't worry, they're quite easy to wash.
Note: It's always a good idea to check the care label before washing a new pair of pants for the first time.
Putting Ododos Leggings and Yoga Pants in the Washing Machine
As with most leggings, these can be put in the washing machine. To prevent the colors from fading (a common issue), turn them inside out; this will also make it easier to wash out the dirt and sweat from the inner layers. You can wash them with other clothing as long as they don't contain velcro or zippers. If you want, you can put the leggings in a separate laundry bag to protect them from your other items.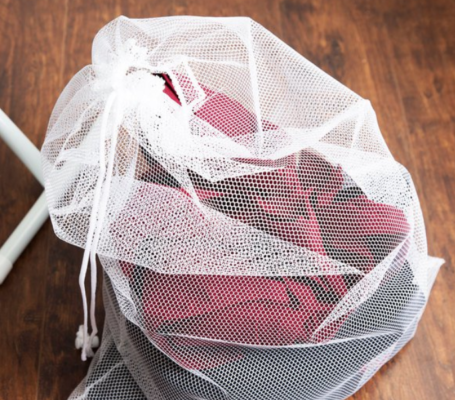 Pro-tip: Be careful when you're washing multiple pairs of leggings. As you know, Ododos sells them in a variety of different colors. Under no circumstance should you mix light and dark colors together—that will lead to color bleeding. For instance, it's not a good idea to wash black leggings with light grey yoga shorts.
Begin the washing process by adding a scoop of ACTIVE detergent to the washer. Select and wash the garments with cold water, on a gentle cycle. Avoid using hot water. Not only will that add to your electricity bill, but it will cause your leggings to wear out faster. Do not use fabric softener; these products are generally not recommended for activewear due to the fact that they coat them with a wax-like substance (i.e. they won't be able to wick away moisture).
Pro-tip: White vinegar is a great alternative to fabric softener. Not only is it cheap and accessible, but it works great! Simply add half a cup to your washing machine with the ACTIVE detergent.
Wait for the wash cycle to finish. Open the door and take out the leggings and yoga pants. Allow them to drip or air dry on a clothesline; you can also drape them on a drying rack. Do not put them in the dryer unless you want the elastic to give way.
Washing Ododos Leggings and Yoga Pants by Hand
Naturally, you can also wash their leggings and yoga pants by hand. Sure, it might be a tad more tedious, but it's actually better for the fabric in the long run. The washing machine does put some stress on the items, after all!
If you're washing just a couple of pairs, you can probably do so in the sink. Otherwise, you might want to wash them in a large basin or tub. The first step is to fill the container—either the sink or the tub—with cold water. Plain water won't do any good so go ahead and add a scoop of ACTIVE detergent. Use your hands to mix the solution together.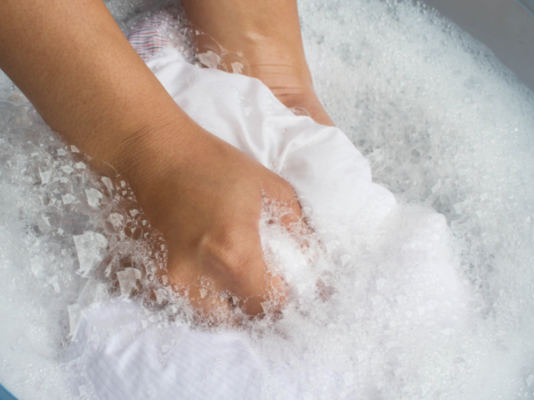 Place your leggings in once you've mixed the water and detergent. Make sure that all of the fabric is under the liquid. Let it sit and soak in the sink for at least 30 minutes (you might want to soak it for longer if it's excessively dirty).
Lather your hands with soap and wash the leggings gently by rubbing on the fabric. Try not to twist the leggings like a dishcloth as that will damage the fibers. Repeat with all of the items before rinsing out the detergent with water—this can be done in a separate container with clean water or directly under the faucet.
When you're done washing, place the leggings and pants on a flat surface. Use a towel to pat out some of the extra water before hanging it up to dry on a clothesline. Once again, do not put them in the dryer. Seeing as how they're mostly polyester, they should dry quickly anyway.
Washing Instructions for Ododos Yoga Shorts
It's not uncommon for yoga shorts to get dirty after a long session at the studio. Luckily, they're also easy to wash!
Are Ododos Yoga Shorts Machine Washable?
Yes, they can be put in the washing machine as long as you follow the instructions sewn on the shorts. Similar to their leggings, you want to turn them inside out so that they will be easier to clean; it will also prevent the colors from coming off. If you want, you can add an extra layer of protection by putting them in a mesh laundry bag (you can easily fit a few pairs of shorts into one bag).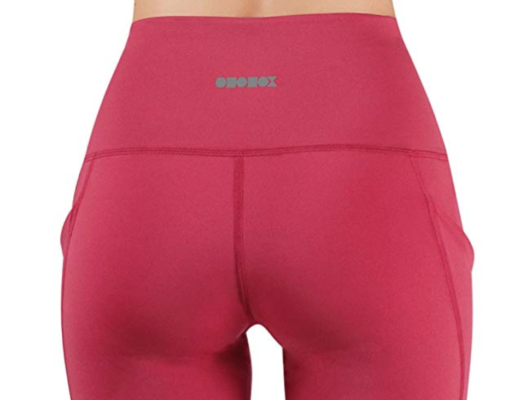 Note: You can wash Ododos yoga shorts together with their leggings and yoga pants. Just be sure that they're not mixing light colors with dark colors (separate them into more than one load if necessary).
Prepare the machine by adding a scoop of ACTIVE detergent. Load the yoga shorts in along with your other laundry. Wash using cold water only on a delicate setting—hot water will deteriorate and damage the elastic. Do not use softeners as they will reduce the fabric's moisture-wicking finish. Distilled vinegar is an appropriate alternative if you want to soften your yoga shorts.
Take the items out once the wash cycle is finish. Do not tumble dry—instead, hang them up on a clothesline to air dry. Avoid putting them under direct sunlight. The shorts should dry quickly due to their polyester content.
Washing Ododos Yoga Shorts By Hand
Their yoga shorts are also easy to wash by hand. Top up half of the sink (you can also use a tub or a container) with cold water and mix in a scoop of ACTIVE detergent. Put the shorts in once the solution is mixed; soak for at least 15 minutes.
Note: If there are stains, rub a bit of ACTIVE detergent directly onto the spot. Let it soak through completely before soaking the entire item in the sink.
After soaking, pick up the shorts from the sink and gently wash them by massaging the fabric. Pay extra attention to stained areas if there are any. When you're finished rubbing the material together, rinse the detergent off with water. Put the shorts on a clean surface. Do not wring them like a dishcloth to get rid of the extra water; instead, pat them down lightly with a towel. Let them air dry on a clothesline. Avoid putting them in the dryer—that will shorten their lifespan.
Best Laundry Detergent for Ododos Leggings and Yoga Shorts
Active Detergent is great for Ododos activewear. Specially formulated for athletic clothing, it contains special ingredients that allow it to break down and dissolve gunk such as bacteria and sweat. In doing so, it will prevent your clothes from developing that musty odor. The way it's formulated, ACTIVE detergent will also make your garments will also last longer.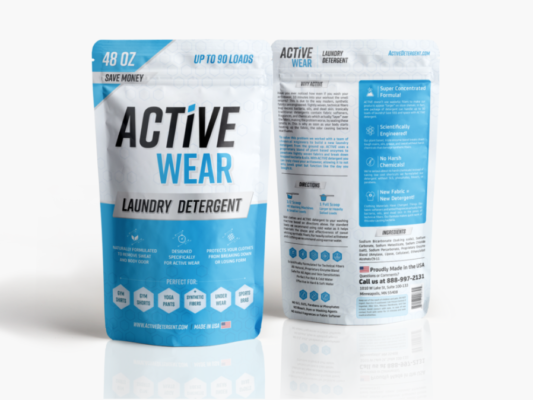 Not to mention that it is hypoallergenic and fragrance-free, which makes it perfect for those with sensitive skin!
Note: This promotional offer is only guaranteed through the end of the day.