Squatwolf is an activewear brand that's known for its modern take on classic gym apparel. In addition to that, they also offer accessories such as bags, socks, face masks, and headwear.
About Squatwolf Clothing
Squatwolf was founded by gym enthusiasts Wajdan Gul and Anam Khalid in 2016. The idea came after the former realized there was a lack of options for functional and stylish gym wear. Taking matters into his own hands, he eventually came up with high-tech workout clothes for men and women, that quickly sold out.
Since then, the company has expanded into the Middle Eastern, American, and European markets. In fact, they've already become one of the top fitness brands in the Middle East.
What Kind of Gym Wear Does Squatwolf Offer?
Squatwolf sells a variety of activewear including t-shirts, joggers, shorts, leggings, tights, jackets, hoodies, and tanks. On top of that, they also offer sports bras for women. Some of their bestsellers include their weightless tees, seamless leggings, jogger pants, and running tights.
Prices are also reasonable for a quality clothing brand. Take their tees, for example, they range from $30 to $56. They also have promotional markdowns every now and then, as well as a clearance section, where you can snag quality items for cheap.
Shipping is also free across the United States for all orders above $100.
Taking Care of Squatwolf Clothing
Their gym wear can last a long time if you care for them properly. This means washing them after each wear with cold water and keeping them away from direct sunlight (high temperatures can cause the fibers to degrade over time).
The way you wash the items is also important. For example, it's best to avoid harsh chemicals such as bleach. The type of detergent matters as well since not all of them are designed for washing synthetic fibers.
Can you machine wash Squatwolf activewear? What type of detergent should you use? Keep reading for all of the answers!
What Materials Are Squatwolf Gym Wear Made of?
Squatwolf clothing is made of synthetic materials such as nylon, spandex, and polyester. Here's what you need to know about these fibers.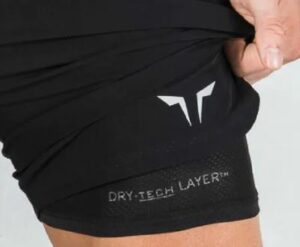 Nylon
Nylon is a lightweight fiber that's known for its durability and elasticity. Like many manmade materials, it also wicks moisture and dries quickly. However, it's prone to pilling and can degrade if exposed to direct sunlight. Still, it's a good choice for clothing as it's relatively easy to wash and resists shrinkage.
Spandex
Spandex (aka elastane) is a synthetic fiber that can stretch many times its normal size. For this reason, it's often used in form-fitting apparel such as swimwear and leggings. However, it has low breathability and is sensitive to heat, which is why it's typically blended with other fabrics such as polyester or cotton.
Polyester
Polyester is a strong and lightweight fiber that's often used for activewear. Not only is it more durable than cotton, but it's also stain-resistant and waterproof. Like many synthetic materials, however, it's prone to static. Still,  it's less expensive compared to other fibers, which makes it a good option for clothing in general.
How Do You Wash Squatwolf Leggings and Tights?
Squatwolf leggings and tights can be put in the washing machine for easy washing. There's also the option of washing them by hand, which tends to be gentler on the fabric. For detailed washing instructions, scroll down.
Note: Always check the care tag label before throwing leggings and tights in the washer. Depending on their fabric composition, they may have certain washing requirements. For example, some may be tumble-dried while others may not.
Machine Washing Squatwolf Leggings and Tights
Start by emptying the pockets. Make sure there's nothing inside otherwise, they'll be washed along with the leggings. Next, turn the leggings or tights inside out. That'll expose the inner layer and protect the colors on the outside from fading.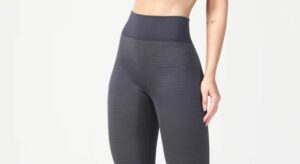 While you can directly add the leggings to the washing machine, it's highly recommended that you use a laundry mesh bag. It'll prevent the fabric from rubbing against the other items so that it will last longer. Just make sure to close the zipper properly before tossing the bag in the tub.
Throw the rest of your laundry into the washer (if you have other items to wash) and add one scoop of ACTIVE detergent. Don't add too much otherwise, it'll leave a soapy layer on the fabric, which will trap sweat and odors. Also, avoid using fabric softener as it will coat your leggings and tights with a wax-like residue that will affect the fiber's moisture-wicking abilities. In some cases, it can also trigger skin sensitivities.
Tip: Instead of fabric softener, you can soften your leggings and tights by adding 1/2 cup of white vinegar to the tub, along with the ACTIVE detergent. Not only will it soften the fabric but it'll also help neutralize odors.
Once everything is in the wash, set the machine to the cold water delicate cycle. Allow it to run.
Take the leggings and tights out of the washer once the cycle is finished and let them air dry, preferably on a clothes drying rack. Do not leave them under direct sunlight as the fibers can warp if exposed to the sun's ultraviolet rays. Using the dryer is also not recommended as you don't want to expose the fabric to high temperatures.
Washing Your Squatwolf Leggings and Tights By Hand
Make sure nothing is left in the pockets and turn the leggings/tights inside out. Place them aside while you prepare a container or tub with cool water. Mix in one scoop of ACTIVE detergent and agitate the water gently to dissolve the powder. If you want, you can also add 1/2 cup of white vinegar to soften the items and to neutralize any odors.
Once the ACTIVE detergent powder is fully dissolved, place your leggings in the container or tub. The item should be fully submerged in the detergent mixture (push down of them with your hands if you have to).
Walk away from the tub and let the leggings sit in the soapy solution for at least 15 minutes (feel free to soak them for longer if they're excessively dirty).
Tip: Spot-treat the leggings before soaking if they are stained. Add a small amount of the detergent mixture to the area and gently blot with a sponge. Resist the urge to scrub as that will only spread the stain. Proceed with the washing instructions after the stain is removed.
Turn on the faucet and rinse the leggings with cool water after soaking. You can also refill the container or tub with clean water and rinse them that way. Continue to rinse the leggings/tights until there's no more soap residue.
To remove excess water from the leggings, gently press them against the side of the tub. Do not twist them like a towel or rag as that will damage the fibers. Once the excess moisture is out, you can hang them up to dry. Do not tumble dry and do not place them under direct sunlight.
The Best Ways to Wash Squatwolf Sports Bras
Sports bras are a little different from leggings and tights in that they're more delicate, mainly due to the elastic. Having said that, they're still machine washable. Here are the instructions.
Machine Washing Squatwolf Sports Bras
Check to see if the bra cups are removable. If they are, take them out prior to washing*.
*Note: You can hand wash the bra cups with water and detergent or you can put them in the washer along with the bra. If you're doing the latter, make sure to place them in a mesh laundry bag. It'll keep them together and protect them from friction damage.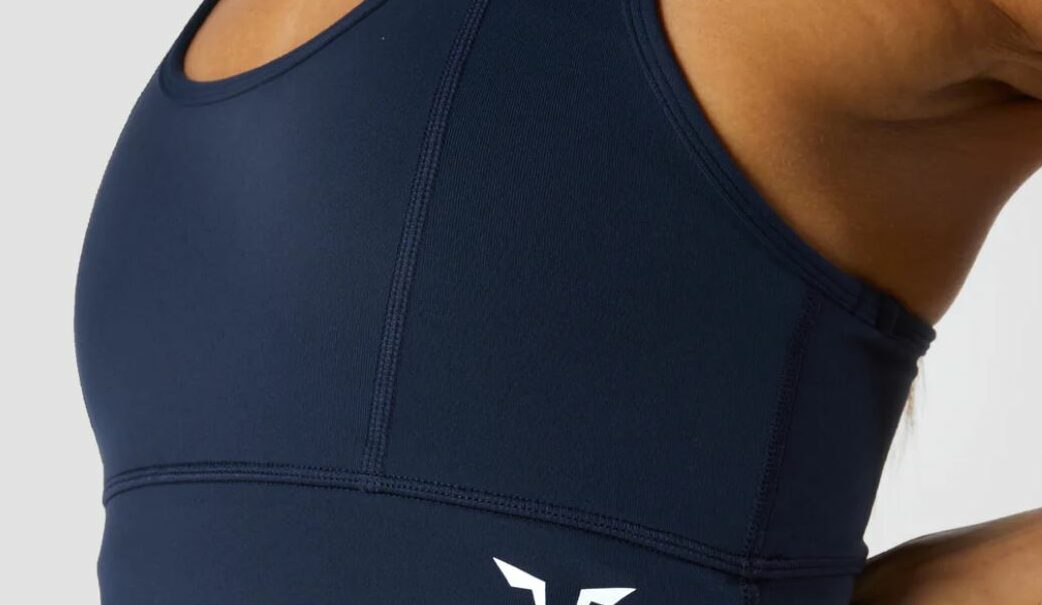 Place the sports bra in a mesh laundry bag and throw it in the washing machine after closing the zipper. Do not wash the bra without a mesh bag; all the tumbling and washing can and will damage the elastic. This is especially true if you're washing the sports bras with other items (it's fine to wash them with undergarments or other delicates).
Using the scoop provided, measure and add one scoop of ACTIVE detergent to the washing machine. Do not add fabric softener as it will prevent the fabric from pulling moisture away from the skin. Bleach and other harsh chemicals should also be avoided as they can damage the intricate fibers.
Tip: You can neutralize smells by adding 1/2 cup of white vinegar to the final cycle.
Choose a gentle or delicate wash setting and run a cold water cycle. Take out the sports bra immediately once it's finished and allow it to dry on a drying rack. Don't leave the items in the washer for an extended period of time as the moist environment can lead to mold and bacteria growth.
Do not tumble dry the sports bras and do not place them under direct sunlight.
Hand Washing Your Squatwolf Sports Bras the Right Way
Take out the bra cups if they're removable and set them aside. Fill a container or sink with cool water and add half a scoop of ACTIVE detergent. Gently agitate the water to dissolve the powder; you should get a soapy solution.
Turn the sports bra inside out so that the inner layer is facing outside and place it in the sink; that'll help expose the sweat and oils on the inner layer. Make sure that the bra is 100% submerged in the solution so that the detergent can penetrate into the fibers and work its magic.
Step away from the sink. Let the sports bra soak in the mixture for at least 15 minutes (you can soak it for longer if you feel they're excessively dirty). If odor is an issue, you can also add 1/2 cup of white vinegar in addition to the detergent.
After soaking, rinse the sports bra thoroughly with cool water (either under the faucet or by refilling the tub with clean water). Continue to rinse until all of the detergents has been washed off; there should be no suds left on the fabric.
Press the sports bra against the sink to remove the excess water. Transfer it onto a clean towel and use it to remove additional water before letting it air dry. Do not tumble dry. Do not leave it outside under direct sunlight.
Washing Squatwolf Jackets and Hoodies
Squatwolf jackets and hoodies can be washed the same way as the leggings. The only difference is that you want to loosely tie the drawstrings (assuming there are some) before washing; that'll help keep them in place. Any zippers should also be closed completely to prevent snagging. Pockets should also be emptied beforehand.
Provided you separate the items into their own laundry bags, you can also wash them with other gym wear such as t-shirts, tights, and joggers.
The Best Laundry Detergent for Squatwolf Clothing
Squatwolf clothing is made from synthetic fabrics, which means you want to use a detergent that's specially designed for these types of fibers—and ACTIVE detergent fits the bill perfectly.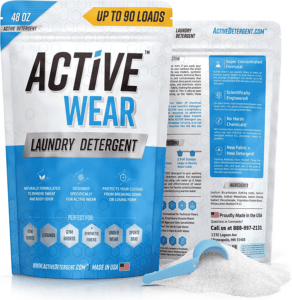 Unlike conventional detergents, which are made with natural fibers such as cotton in mind, ACTIVE detergent is engineered for technical fabrics such as polyester and spandex. Not only will it remove odors but it'll also penetrate deep into the fibers to break down sweat and dirt.
On top of all that, it's hypoallergenic, fragrance-free, and all-natural. You also get your money's worth as one pack also comes with 48 oz of powder, which is enough for up to 90 loads!
Note: This promotional offer is only guaranteed through the end of the day.