Monday Swimwear offers a variety of bathing suits, all of which are soft-to-touch with iconic feminine designs. That's not all, they also sell loungewear such as shorts, tie tops, wide-leg pants, and more.
More About Monday Swimwear
Monday Swimwear was founded in 2014 by Natasha Oakley and Devin Brugman. Business partners, the two ran a successful lifestyle blog where they shared photos of different swimsuits every day. From there, they eventually made the decision to launch their own swimwear brand.
As far as we can tell, their swimwear (and other products) is only available through their official website.
What Kind of Swimwear Do They Sell?

The company offers a wide range of swimwear including one pieces, bikini tops, and bottoms. Not only that, but they have a beachwear collection as well, which consists of tops, pants, shorts, and sarongs.
Price-wise, you're looking at around $170 to $200 for a one piece or bikini. With that said, they do have a sale section where you can take advantage of discounts if you want to save some money. Keep in mind, however, that you will have to pay extra for shipping (the exact cost will depend on where you're located).
Taking Care of Monday Swimwear Products
Monday Swimwear prides themselves in the quality of their products. Like all swimsuits, however, they can wear out over time. Fortunately, there are steps that you can take to prevent that from happening. For one thing, you never want to expose your bathing suit to heat. Not only will it distort the fabric, but it can ruin the elastic as well and if that happens, it won't fit properly anymore.
Also, pay attention to how you're washing the items. There are certain things that you want to do and certain things that you want to avoid when it comes to swimwear and we'll be going over them below.
What Fabrics Are Their Swimsuits Made of?
Let's take a look at the synthetic fabrics that they use for their one pieces and bikinis. That's what determines how you should wash them, after all!
Recycled Polyester
Recycled polyester (rPET) is made by melting down plastic (e.g. PET bottles) and re-spinning it into new fiber. As with traditional polyester, it's strong, durable, and lightweight, which makes it suitable for a variety of clothes, including swimwear. Like most manmade fibers, however, it's sensitive to heat and can melt or scorch if exposed to high temperatures.
Spandex
Spandex is made of polyurethane, which is known for its exceptional elasticity. Not only is it strong, but it's also lightweight and comfortable to wear. Pure spandex, however, is rarely used in garments. Rather, it's woven into other fibers such as cotton, nylon, or polyester.
Nylon
Nylon is a thermoplastic material that was created as an alternative to silk. Not only does it repel water, but it also has outstanding durability, which makes it great for swimwear. Plus, it's super lightweight (it's 1/7th the weight of traditional materials). However, it tends to shrink if exposed to heat.
How to Wash Monday Swimwear – A Short Guide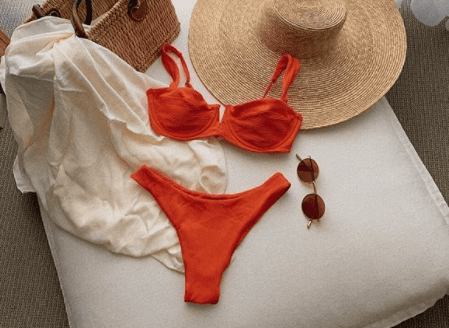 There are two ways to wash Monday swimwear—you can either hand wash the suits in the sink (ideal) or put them in the washing machine. Before you do anything, though, make sure to check the care tag label. It'll give you all the information that you need about that particular garment.
The Best Way to Hand Wash Your Swimsuits
Rinse your swimsuit before hand washing. That'll get rid of any chemicals (e.g. chlorine), sweat, or sand that's on the fabric. For example, you can soak it in a sink or washtub (recommended). You can also hold it under running water or jump into the shower with it on.
Prepare the suit for washing by turning it inside out. Set it aside and fill a sink with cool water. Add 1/2 scoop of ACTIVE detergent and swish the water with your hand—the powder should dissolve quickly.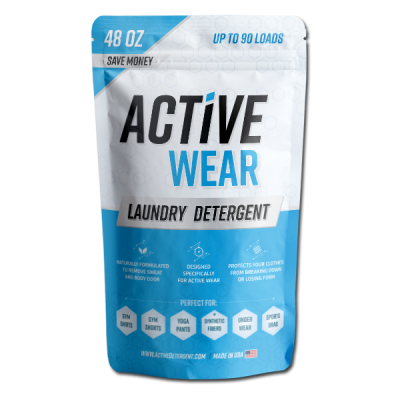 Tip: Use baking soda to get rid of stains. Sprinkle a generous amount over the spot and let it sit for at least an hour before washing the suit. White vinegar works as well.
Place the swimsuit in the sink. Ensure that it's completely immersed in the solution. Press down on the garment with your hand, if you need to. From there, let it soak for 15 to 20 minutes.
Empty the sink and refill it with cool water. Use it to rinse the detergent out of the bathing suit. You can also hold the garment under running water. In any case, you want to rinse until there's no more soap film.
Gently squeeze the bathing suit over the sink to remove the excess water. Avoid the urge to twist or wring it like a rag—that will cause permanent damage to the fibers. Once the excess water is out, drape it across a laundry rack and let it air dry. Never put your one piece or bikini in the dryer. If anything, that's the best way to ruin a suit.
How to Machine Your Swimsuits Without Ruining Them 
Rinse the one piece or bikini in cool water. From there, turn it inside out and place it in a small laundry bag—that'll prevent the suit from getting damaged, especially if you're washing it with other items. Never put the suit into the washer directly.
Close the laundry bag and put it in the washing machine. Add the rest of your clothes if you're washing a mixed load. If not, add in a few towels to help balance the load.
Measure one scoop of ACTIVE detergent (you can use more if you're washing a lot of items) and add it to the washer. Don't use softeners or conditioners; they'll cover your bathing suit with a wax-like substance that'll prevent it from becoming clean.
Tip: White vinegar is a great substitute for fabric softener. Not only will it soften the fabric, but it'll also get rid of any odors.
Next, choose your machine settings. For swimwear, it's best to use a delicate or gentle wash cycle with minimal spin. And always use cold water. Hot water will clean your bathing suits but it'll also damage the material.
Let the washer run. Retrieve the laundry bag once the cycle is finished and take out your swimsuit (don't leave the suit in the machine for too long, otherwise, it'll breed bacteria and you'll have to wash it again). We recommending air drying it on a drying rack. Avoid hanging the suit by its straps as they can stretch out. And like we said earlier, never put your one piece or bikini in the dryer.
Washing Swimsuit Coverups the Right Way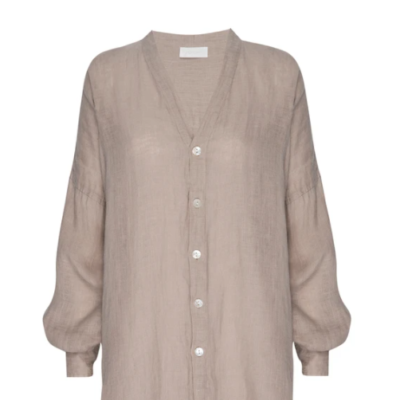 Their beach coverups can be washed by hand or put in the washing machine. Keep reading to learn how!
Machine Washing Your Swimsuit Coverups
Unbutton all buttons and turn the garment inside out—that'll prevent them from hitting the inside of the washer. Next, put it in a laundry bag. While you can wash your coverups without one, it's highly recommended as it'll make them last longer.
Tip: You can wash swimsuit coverups with other clothing such as tank tops, shorts, etc. If you want, you can even put it in the same load as your one piece or bikini! Just remember not to mix lights with darks and you're good to go.
Close the laundry bag and put it in the washing machine. Assuming that you're washing a mixed load, add in the rest of your clothes. From there, pour in a scoop of ACTIVE detergent. As with swimsuits, you want to avoid softeners and conditioners. White vinegar is a suitable alternative if you want to soften your coverups—just add one cup to the washer.
Choose a delicate or gentle setting (the less spin, the better) and run a cold wash cycle. Give the washer time to do its thing.
Retrieve your garment once the cycle is complete. We recommend air drying it on a laundry rack or clothesline. Alternatively, you can lay it flat in an airy space. Avoid the dryer as the heat will damage the item's shape and quality.
Hand Washing Your Swimsuit Coverups In the Sink
Add cool water to a clean sink. Pour in half a scoop of ACTIVE detergent and mix to create a bath; the powder will dissolve and you'll be left with a sudsy solution.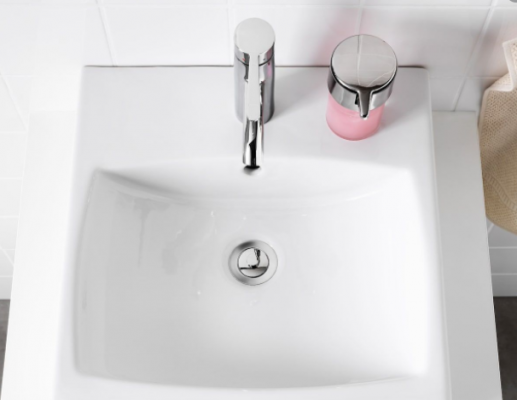 Turn the coverup inside out (remember to unbutton the buttons) and place it in the sink. You can swish it a few times through the water with your hand to help work in the soap. Let it soak for at least 15-20 minutes afterward.
Remove the garment from the sink and drain the soapy water. Refill with cool water and rinse the coverup until the item is soap-free. You can also hold it under running water (continue until it runs clear).
Gently press the excess water out of the fabric and lay the garment flat to dry. Or if you want, you can use a laundry rack or clothesline.
Note: This promotional offer is only guaranteed through the end of the day.