C9 Champion is Target's go-to activewear line. A subsidiary of Hanesbrands, they sell a wide assortment of apparel including leggings, sports bras, jackets, vests, and underwear. Aside from clothing, they also manufacture sports equipment such as dumbbells, exercise balls, hiking poles, jump ropes, and more.
More About C9 Champion
Target introduced C9 by Champion, one of their exclusive lines of activewear, in 2004. Since then, the brand has grown tremendously. Aside from apparel, they also sell shoes and accessories for women, men, and children, all of which are available at their retail stores; additional styles and sizes are available at their website as well.
Despite this, however, Hanesbrand, the parent of C9 Champion, announced that they would be ending their longtime partnership with Target; they did not renew their contract after it expired in early 2020. With that said, it has been stated that Hanesbrand plans to continue the line at a different retailer.
A Closer Look at C9 Champion Activewear
One of C9 Champion's selling points is that it is inexpensive—especially when compared to some of the other brands out there. For instance, you can easily get a pair of training pants for $20, whereas it might cost three or four times that at other stores. Similarly, their sports equipment is also cost-effective. Take for instance their dumbbells—some are as cheap as $3.50!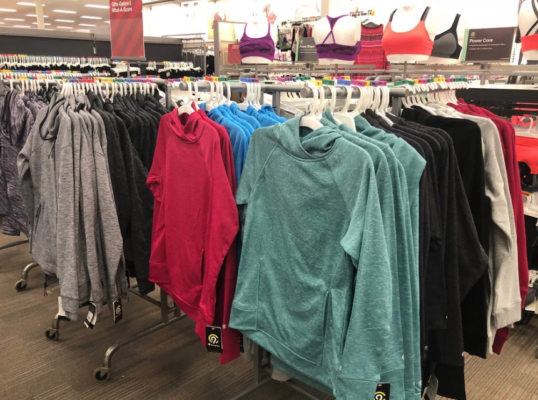 Another reason why they're so popular is that they offer plus sizes. In fact, they're probably one of the most affordable options when it comes to plus size activewear. This is not surprising, though, considering all of the styles that they offer both in stores and on their website.
Taking Care of C9 Champion Activewear
The quality of their clothing is quite decent for its price. Having said that, clothing is clothing; it will get worn out over time. To extend their life, it's important that you wash their products properly. You've probably heard this before but it's easy for garments to get damaged in the laundry—and sportswear is no exception! Wouldn't you want to get your money's worth?
Perhaps it's your first time buying C9 Champion activewear? Not too sure how to wash your new leggings or jacket? Don't worry—that's why we're here. On this page, we will be going over some of the best ways to wash their different products.
Before we go into that, though, let's check out some of the fabrics and materials that are used by C9 Champion.
Fabrics Used by C9 Champion
Given that they sell activewear, it's not surprising to know that most of their products are made from technical fibers. Compared to traditional fabrics (e.g. cotton, wool, etc), these fibers are much more suitable for physical exercise. Why? For one thing, they are moisture-wicking—this means that they're capable of pulling sweat away from the skin. In doing so, you'll stay dry during your workout.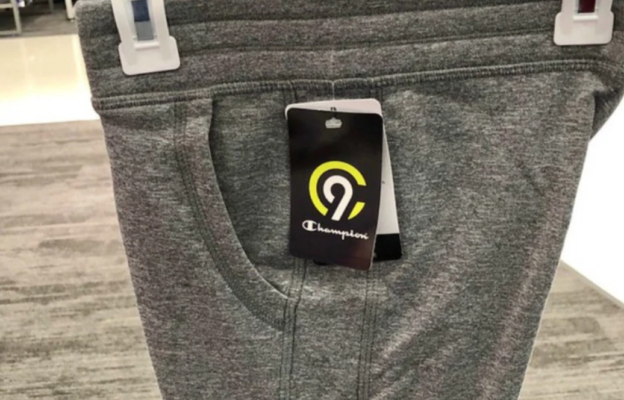 Polyester
Polyester is one of the synthetic fibers that is frequently used in activewear. Not only is it less expensive than some of the other fabrics out there, but it is durable and resistant to wrinkles. Highly flexible, it also provides freedom of movement.
Spandex
Spandex is often incorporated with polyester in athletic apparel. Known for its elasticity, it helps activewear to retain their shape. It is also comfy to wear and resistant to sweat.
Duo Dry+
C9 Champion also uses their own proprietary fabric, which features Duo Dry+ technology. Perfect for activewear, it wicks away moisture for drier, cooler comfort. Their Duo Dry collection includes boxers, briefs, shorts, tees, tank tops, and sports bras. 
How to Wash C9 Champion Leggings, Yoga Pants, and Tights
As mentioned earlier, they offer a wide assortment of leggings, tights, and yoga pants for women and children; joggers and training pants are also available for men.
Note: Always double check the care instruction label before washing any new clothing.
Are C9 Champion Leggings, Yoga Pants and Tights Machine Washable?
Yes, they are. In fact, it's probably the most straightforward way to wash C9 Champion leggings and pants. Before loading them in the washing machine, turn them inside out. This will make it easier to wash away the sweat and dirt; it will also prevent the patterns and colors from fading. While you can wash them with other garments, it's best if you avoid putting them together with coarse items such as jackets or jeans.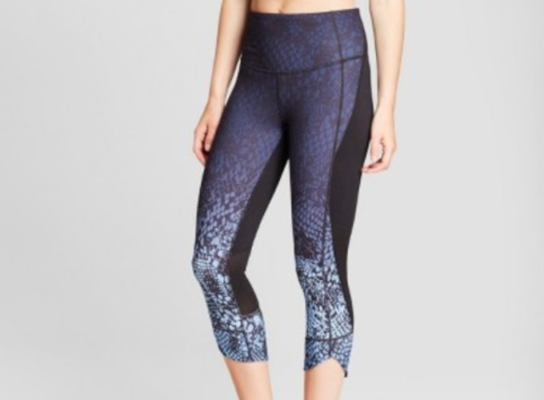 Pro-tip: Want your C9 Champion leggings and yoga pants to last longer? If so, you might want to consider putting them in a mesh laundry bag—that will prevent them from getting snagged or damaged by your other clothes. Don't have one? You can just use a clean pillowcase (tie off the end with an elastic).
Place the leggings, tights and yoga pants into the machine. Add a scoop of ACTIVE detergent (or two scoops, depending on the size of your load) and wash the items with a cold, delicate cycle. Avoid using fabric softener. While these products will soften your clothes, they will also hamper the fabric's ability to pull away perspiration (they will coat the surface with a wax-like layer). Instead, you can add half a cup of white vinegar—it is natural and works great as a softening agent!
Take the garments out of the washing machine once the cycle is done. Do not leave them inside for prolonged periods; that will lead to odors. Hang the leggings and pants on a clothesline to dry; a drying rack can also be used. Do not put them in the dryer—the high temperature inside the machine will quickly ruin the technical fibers.
Washing C9 Champion Leggings, Yoga Pants, and Tights by Hand
Don't want to use the washer for just a few pair of leggings? No problem—washing them by hand is easy too. As a matter of fact, it's the gentlest option; it won't get tossed and thrown around, after all!
Begin by filling a basin or sink with cool water. Carefully add a scoop of ACTIVE detergent. Agitate the liquid slightly with your hand to mix. Submerge your leggings and pants in the solution once soap suds are visible (double check to see that all of the fabric is in the liquid). Let it sit and soak for up to 30 minutes.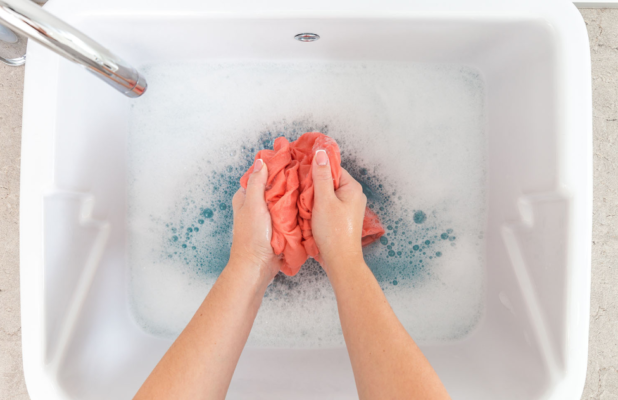 Afterwards, wash each pair with your hands. Do this by gently rubbing the fabric between your fingers or against itself—avoid wringing or twisting motions. Repeat with all of your leggings and yoga pants. When you're finished, rinse the detergent off with water either under the faucet or in a clean tub.
Lay them flat on a clean towel; press down lightly to remove some of the water. The final step is to hang them to dry. You can either put them on a clothesline or on a drying rack. As mentioned earlier, you do not want to put C9 Champion leggings, yoga pants and tights in the dryer.
Note: The same methods can be used to clean and wash their tank tops, shorts, short- and long-sleeved shirts.
Getting Stains Out of C9 Leggings, Yoga Pants and Tights
Stains happen, no matter how careful we are. Even sweat can cause discoloration in some cases! Luckily, they're generally easy to get out of the fabric.
Using ACTIVE Detergent
One of the easiest methods is to pre-treat the garment with detergent. Fill the sink with warm water and add a scoop of ACTIVE detergent. Locate the problem area and submerge it into the solution (you can also dunk the whole thing in). Let it soak for about 30 minutes—this will loosen the stain and make it easier to remove later. Afterwards, you can launder the item as usual. You might have to repeat the above steps a few times if the stain is still visible.
Using Baking Soda
Baking soda is not just for baking—it can also be used to lift stains from fabrics. In a small bowl, mix together three tablespoons of baking soda with a little bit of warm water. Stir gently to create a thick paste. Use your fingers or an old toothbrush to apply the paste onto the spot—make sure that the entire area is covered. Allow it to sit for at least one hour before washing the item as normal.
Alternatively, you can mix baking soda with white vinegar. Slowly add the liquid to the powder in a small bowl until it becomes a thick paste. Use your finger or an old toothbrush to rub it into the stained fabric. Let it sit for at least an hour and launder as normal.
Best Way to Clean C9 Champion Underwear and Sports Bras
C9 Champion sells undergarments including sports bras and underwear. As with most delicate items, you want to wash them with more care.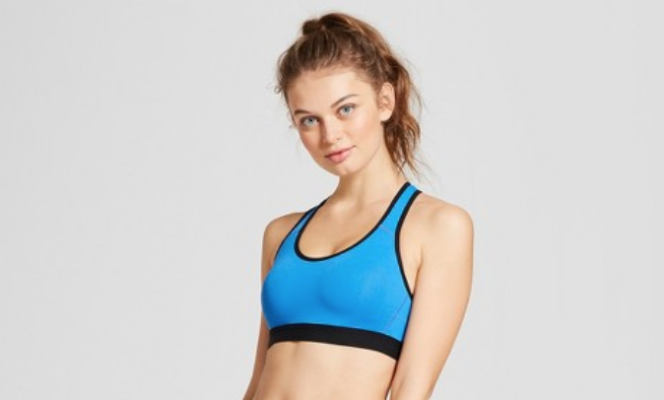 Putting C9 Champion Sports Bras and Underwear in the Washer
You can easily wash their sports bras and underwear by using the washing machine. Protect them from the rest of your laundry by putting them in their own mesh lingerie bag—this will also prevent the elastic from stretching in the washer. You can wash them with like-colored clothing, however, avoid those with hardware (e.g. zippers, velcro).
Add a scoop of ACTIVE detergent and load the lingerie bags into the machine. Wash everything on a cold, delicate cycle. Do not use hot water as that can lead to shrinkage. Avoid using fabric softener for the same reasons mentioned earlier.
Wait for the wash cycle to finish. When it's done, take out the sports bras and underwear. Allow them to air dry on a clothesline or on a drying rack. Do not put them in the dryer—that's the easiest way to ruin them!
Hand Washing C9 Champion Sports Bras and Underwear
Their sports bras and underwear can also be washed by hand in the sink or in a basin. Start by filling it with cold water. Add a small amount of ACTIVE detergent to create a soapy mixture. Place the garments in once the solution has been thoroughly mixed. Pre-treat them by letting them soak for at least 30 minutes.
You can begin to wash them once they've been soaked. Pick up each of the items and rub them gently against itself to get rid of any sweat, oils, and dirt. When you're done cleaning, rinse them off with plain water. You can press them against a clean towel to remove excess water. Avoid twisting the items like a dishcloth—that will cause the elastic to deteriorate! Hang them up to dry. Do not put them in the dryer.
Best Laundry Detergent for C9 Champion Clothing
ACTIVE detergent is the perfect product for C9 Champion clothing. Why? The reasoning is simple—it's formulated specifically (by a team of chemical engineers, nonetheless) for activewear. Ultimately, what this means is that it is much more capable of getting rid of all of the dirt, oils, sweat, and bacteria that gets trapped between the fibers. Not only does it contain enzymes, which dissolves the gunk, but it contains chelating agents as well—these substances will help to restore your clothes back to their original state after the cleaning is done.
Note: This promotional offer is only guaranteed through the end of the day.